Kaiterra is a rapidly growing technology company with a mission to improve the world's environment. We work hard everyday to help everyone monitor the air we breathe, and empowering people to take small, measurable steps to improving the quality of our environment.

Sure, ending air pollution is a pretty huge mission - one that we know sounds impossible to people, but we're okay with that, because we love a good challenge.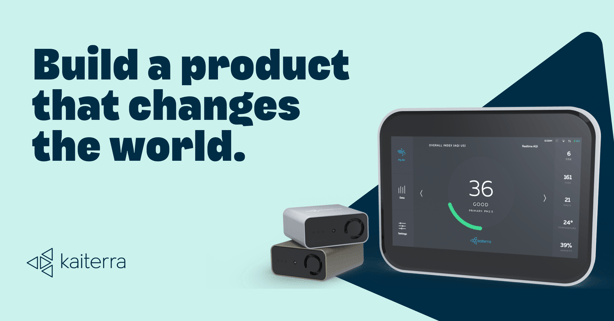 At Kaiterra, we dream big. Fail fast. And then start all over again until we get it right. We are looking for people that are bold enough to think that they can leave a mark on this world. That what they do matters and should matter. We are looking for the makers, thinkers and dreamers to the curious, inquisitive and hard working.
Sounds like you? Read on!
---
About the Position:
The role we are hiring for is a Product Manager, or Product Owner, using Kaiterra's terminology.
What is a Product Owner?
"The Product Owner treats their product like their own company - they are a Mini-CEO. As a Mini-CEO, the Product Owner is empowered to do the right thing by higher level management. Product Owners must think strategically, be a great negotiator, and do what is best for the product."
Job Description:
In the role of Product Owner, you will be responsible for creating every product that Kaiterra builds, both software and hardware. You will define the product, and ensure that it gets built to specification. You should be passionate about building amazing products that will wow customers, but you don't need to be an engineer. You will talk to customers, learn about their pain points, gather feedback from them, and then work closely with the engineering teams to bring your vision to life.
You will be a fit for this role if you are a good communicator, very fast learner, and want to leave your mark on the world by building products that will be used around the globe. You should have some product design/definition/development related experience, an eye for design and an understanding of what a good user experience feels like. Experience with Scrum or agile frameworks is a big plus.
You will be accountable for making sure the engineering team builds the right product, and that the final product we deliver into clients' hands, is one that they will love.
Our products are found in over 100 countries and are sold in the Apple Stores. Our enterprise products are installed in some of the world's most iconic buildings, including the Empire State Building, Taipei 101, NFL and NBA stadiums, and even cruise ships sailing across oceans. The products that you design will make a measurable difference to the lives of many people, as well as to the planet.
We are a high tech startup in a rapidly growing industry that changes every day. You will need to embrace the unknown and rapidly understand industries that you have probably never worked with before. If you like a challenge and always find a way to win and succeed, you will probably be a great fit with our team.
Responsibilities:
Customer Feedback
You will interact directly with our enterprise clients, participating in regular meetings that include sales and customer experience. You will gain a deep understanding of our clients' pain points, the user experience with our products, and work with them to identify how our products can be improved. You will be the customers' champion within Kaiterra, and make sure that their voice is heard. You will act like a journalist, digging into what customers really want, and reading between the lines to understand their true needs.
Product Roadmap
You will consolidate all of the feedback that you receive from clients, as well as from our own sales and marketing teams. You will gain a thorough understanding of the industry, and how Kaiterra fits into this competitive landscape. You will work with the engineering and leadership teams to create a product roadmap - what should we build, and when? What will drive the most value for our customers and for Kaiterra?
Product Backlog
You will be a member of both the hardware and software development scrum teams. You will be responsible for maintaining the product backlog, including ensuring that all features have clear descriptions and user workflows, prioritising the right features, and ensuring that the development team understands the product backlog and every item on it to the degree required. When something is unclear, or an engineer isn't sure how a feature should work, they will come to you for advice.
Product Definition
You will be responsible for defining the user experience on all products. Should our app support this feature? What should the UX of our online dashboard look like? What should the plastic of our new monitor feel like, and what information needs to be printed on the packaging? All of these items will be decided by you. You may hire and work with freelancers to accomplish certain tasks that are not done in house, and should be comfortable doing so.
Communication
You will understand exactly what the development team is working on, and exactly where they are in completing it. You will be responsible for communicating this information to other stakeholders within the company, such as marketing and sales, as well as externally to our customers. You will run and present the bi-weeky sprint demos (following the scrum method). You will also be responsible for updating all internal documentation about new features, so that your colleagues understand clearly what has been built, and how it works.
Minimum Job Requirements:
Native-level English & Chinese. You will be a member of both the hardware team and the software team, and interact with our clients. Our hardware team is Chinese speaking, while our software team and the vast majority of our clients speak English.
China/Hong Kong based (Beijing preferred, but not required)
Experience in product development or management (e.g. product owner, manager, scrum team).
Understanding of scrum preferred.
Understanding of and interest in IoT products preferred but not required.
You will be a great member of the Kaiterra family if you are also:
Not afraid to take challenges and try different things
Driven, persistent, and fun-loving
Passionate about learning
Taking ownership of problem-solving and delivering outcomes
Mission-driven and want to make a real impact on our environment
How to Apply?
Please send your resume to careers@kaiterra.com with the subject line "PO Application".
Please also send a cover letter highlighting your qualifications and reasons for your interest in this position.
We're looking forward to working with you!