Stay in the loop
Air quality insights and best practices delivered to your inbox every month.
Newsletter
We're excited to announce that we've recently launched on IFTTT (aka If This, Then That). With the Kaiterra App, you can now automatically get notified when your air quality is poor, record hourly air quality on a Google spreadsheet, and much more! You'll be able to do more with data and make tracking air quality even easier.
What Is IFTTT?
IFTTT is a free online platform that allows you to automate specific tasks by linking your IoT devices to different services under a trigger-action logic. In other words, when you sync this up with the Kaiterra app, your smart home will be able to automatically take specific actions that will help you improve your air on polluted days.
It makes your life easier by providing automated feedback to other appliances like lights (for trigger-based notifications) and for air purifiers.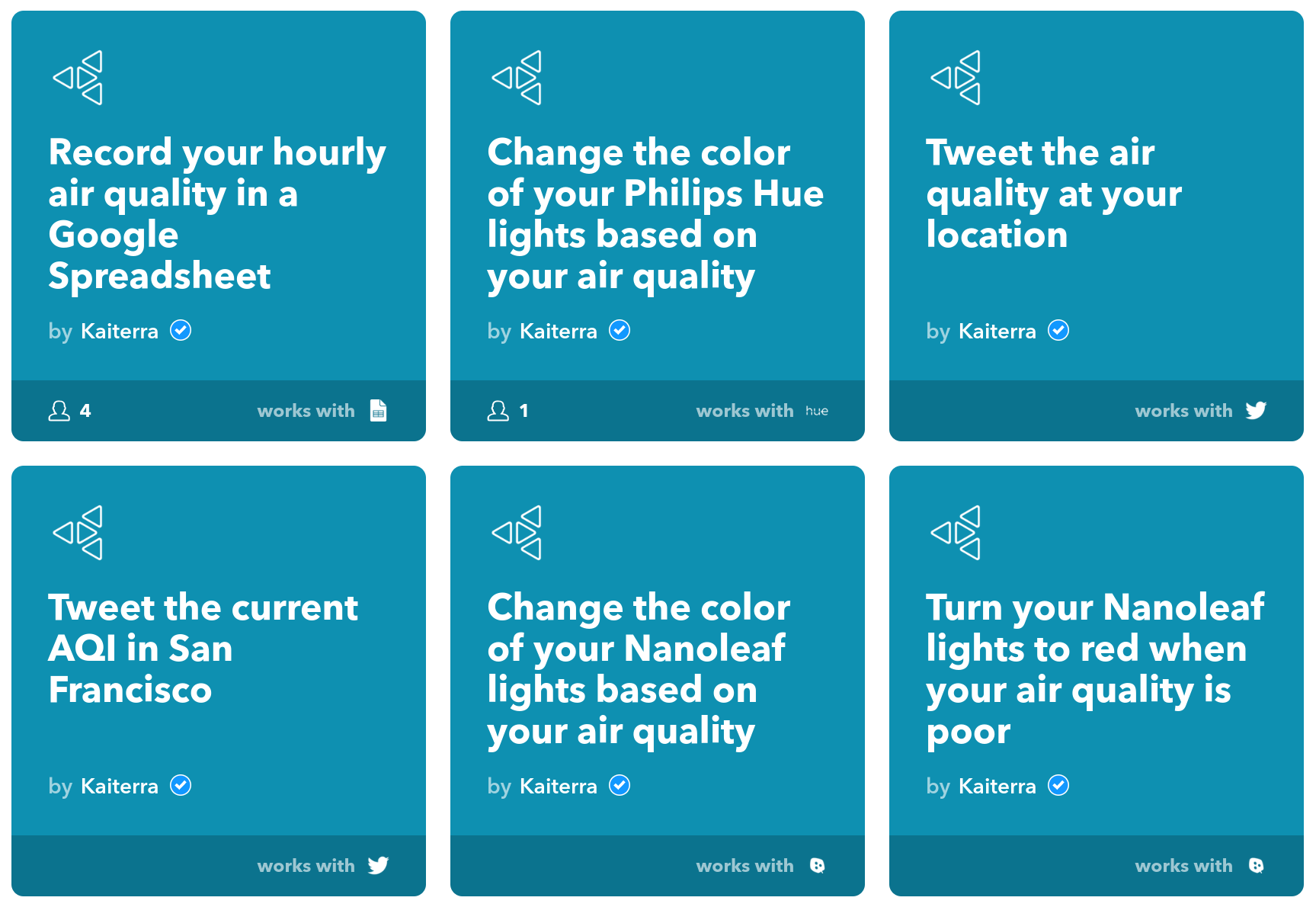 (above is a sneak peek of the Kaiterra applets!)
How Can IFTTT Help You With Air Quality?
We're glad you asked! Trigger-action combinations are what IFTTT calls applets. Using IFTTT applets will allow you to sync the data collected by the Laser Egg and automate tasks. Instead of having to check, track, and log air quality data, you'll be able to set it up so that this all becomes automated for you.
Why Are We So Excited About IFTTT?
We're really excited to bring IFTTT compatibility to the Laser Egg because it means you'll be able to #knowyourair and set up devices that automatically protect you from pollution. For example, you can automatically turn your air purifier on when the air quality crosses a certain threshold. Or, you can record hourly air quality in a Google spreadsheet. Our dev team has been hard at work for the past few months developing IFTTT capabilities, and we've created 16 different applets to help you better protect your air.
How Do I Start Using IFTTT Applets With My Laser Egg?
We're looking into how we can add many more features to use with IFTTT over the coming months, so stay tuned! 🎉