Stay in the loop
Air quality insights and best practices delivered to your inbox every month.
Newsletter
How Air Quality Impacts a Company's Bottom Line
Anyone familiar with the WELL building standards knows that the air quality in a building plays a crucial role in maintaining a healthy environment. It impacts our health, productivity, mood, and decision-making. New data is continuously emerging that supports this; but what does it mean for businesses?
From a dollar standpoint,
The National Bureau of Economic Research
found that an increase in PM2.5 pollution of 10 micrograms per cubic meter (µg/m3 ) reduces the productivity of workers by $0.41 per hour. In terms of productivity, a study run by United Technologies found that in offices that maintain a green environment (i.e., low emissions of volatile organic compounds), employees were
172%
better at applying knowledge to a problem. If you run an organization with thousands of employees, it quickly becomes clear how air quality can contribute (or deter) from a company's bottom line.
WELL Projects at the Gold Level
With what we know today, invest
ing in air quality is a key business decision many leaders are faced with. That's why many look for tools that help them measure indoor air quality (IAQ) and keep it at a level that helps people and facilities excel. P
rofessional certifications, such as the
IWBI's WELL v2
,
are an investment that helps to ensure indoor air is able to make a positive impact on employees, buildings, and businesses.
Becoming a certified WELL project at the Gold level is a prestigious accomplishment that shows an organization's commitment to wellbeing. To attain this level of certification, projects must surpass air quality monitoring regulations outlined by WELL. It's a challenge that only the most dedicated and driven organizations are able to achieve.
Air Monitoring in the Delos Asia Headquarters
In May 2018, the Delos (China) Headquarters officially obtained a WELL certification at the Gold level, becoming the first project in Beijing to receive this honor. This was a significant accomplishment because the office is shared with the International WELL Building Institute (IWBI), the governing body behind the WELL building standards. By working with the right monitoring solution for indoor air quality management, Delos was successfully able to meet the rigorous testing and evaluations carried out by the Green Business Certification Inc. (GBCI). This achievement was made possible by using the Sensedge, an advanced enterprise air quality monitor that meets (and exceeds) the requirements for all WELL standards.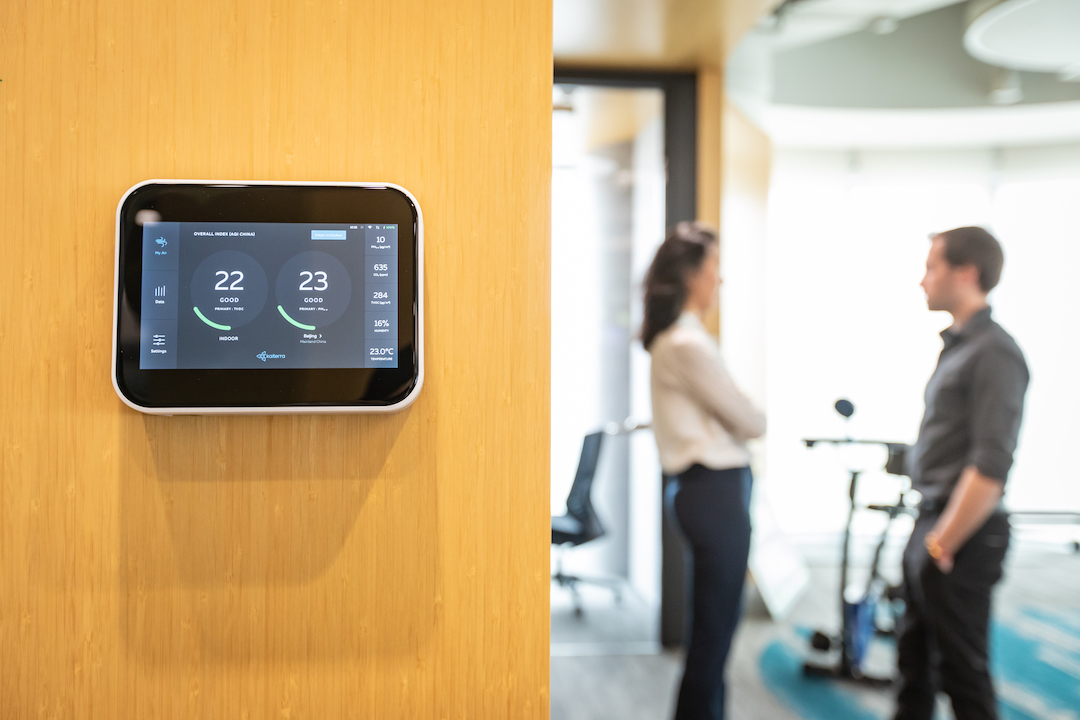 Sensedge — A Monitor That Can Meet All WELL Standards
Small changes in IAQ levels can have a significant impact on the air people breathe; that's why the WELL v2 standard has such stringent requirements. To attain this certification, you need commercial air quality monitors that provide real-time monitoring of PM2.5, TVOCs, and CO2. With access to fast and accurate air quality data, building managers are able to make adjustments needed to ensure that the IAQ standards are maintained at healthy levels at all times.
"As a developer of WELL building standards and a promoter of healthy real estate, Delos has always set an example and strives to provide a healthy indoor environment to every employee and visitor. Air is essential as a WELL standard. One, which greatly affects people's physical and mental health, and Sensedge perfectly meets our requirements for air quality management, allowing us to ensure everyone's breathing health in a smarter, more intuitive and efficient way."

- Xue Ya, President of Delos Asia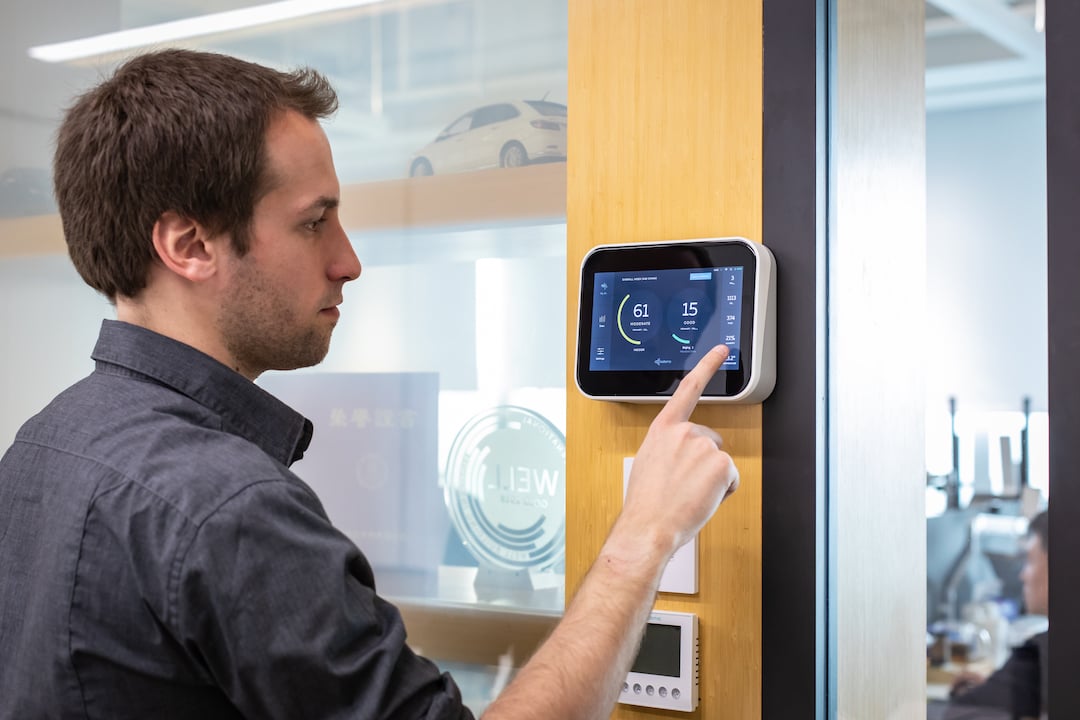 Ensuring Comfort With Temperature & Humidity Monitoring
Measuring temperature and humidity levels are key considerati
ons for the WELL standard because it can impact people's mood, performance, and productivity. I
f the humidity is too low, it can cause dryness and discomfort. On the flip side, if it's too high, you're at risk of growing pathogens (mold). The Journal of the Air & Waste Management Association found that a
35% increase in relative humidity
may result in a 180-260% increase in formaldehyde emissions. The Sens
edge mitigates issues caused by temperature and humidity by collecting data for these two parameters
every single minute
.
Easy-To-Read Displays
To ensure building managers and residents stay up to date about the air, WELL has developed very clear display requirements for monitors. The Sensedge monitor provides users with a simple, intuitive, and easy-to-use data panel that allows real-time results to be dynamically displayed on a large screen. This enables users of the space to easily view and understand critical information about their air.
Effective Monitoring Frequency & Data Storage
In terms of monitoring frequency and data storage, WELL requires that air samples are taken at specific intervals for specific pollutants.
The Sensedge collects samples, which satisfy the accuracy and resolution requirements,
every minute
. With continuous and convenient monitoring, the Sensedge ensures that buildings will never lose a data point.
Simplified Sensor Maintenance
Sensor maintenance is a major challenge in the field of air monitoring because traditional monitoring equipment needs to be re-calibrated at regular intervals (many manufacturers suggest doing it annually). The Sensedge sidesteps this challenge through its innovative design. It uses a modular system so that re-calibrating a sensor is just as easy as replacing a printer cartridge. The entire process takes less than a minute.
"Kaiterra is committed to bringing smart air management to more managers and tenants to promote the development of healthy buildings. Sensedge was originally developed with reference to standards such as WELL and RESET. Real-time, easy-to-maintain features are highly valued by corporate customers. Delos is always a solid strategic partner of Kaiterra, and we will work with Delos to promote healthy living."

- Liam Bates, Kaiterra CEO
A Trusted Monitoring Solution
While there are several monitoring solutions on the market that will help you attain a WELL v2 certification, the one that the IWBI and Delos trust to monitor the air in their buildings is the Sensedge.
If you'd like to learn more and see if the Sensedge is the right monitoring solution for your next project, reach out to our sales team to receive a risk-free demo unit today. See for yourself what the leaders in wellness real estate use for their air monitoring needs.