We are excited to announce that, in July of 2021, Kaiterra's enterprise indoor air quality monitoring solutions were awarded a Solar Impulse Efficient Solution Label! Recognized for our efforts to promote energy-efficient, healthy commercial spaces, we are more driven than ever to create a better environment for our people and our planet.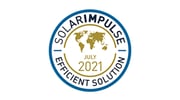 Kaiterra's enterprise IAQ monitoring solutions provide data-driven actionable air quality insights for healthier, more efficient buildings and commercial spaces, driving improvements in wellness and boosting sustainability efforts. Our monitors, the Sensedge and Sensedge Mini, are powerful tools that:
Collect up to 8,640 data points per monitor daily, far, far greater than annual or quarterly air testing
Reduce energy consumption by 10-21% through demand-controlled ventilation
Identify areas for air quality improvements, which can increase productivity by 10-25%
With a wide range of connectivity and installation options, as well as a streamlined, simple recalibration process, Kaiterra's enterprise IAQ monitors can be implemented in a variety of spaces to achieve project goals.
About the Solar Impulse Efficient Solution Label
The Efficient Solution Label created by the Solar Impulse Foundation is an assessment tool for both clean and profitable environmental solutions, encouraging economic growth while simultaneously addressing sustainability issues. For solutions to be awarded the Label, they must pass a set of rigorous assessment criteria and be evaluated by a team of independent experts. Each solution contributes to at least one of five Sustainable Development Goal (SDG), as defined by the United Nations:
SDG 6: Clean Water and Sanitation
SDG 7: Affordable and Clean Energy
SDG 9: Industry, Innovation, and Infrastructure
SDG 11: Sustainable Cities and Communities
SDG 12: Responsible Consumption and Production
The Efficient Solution Label list provides a set of tools for political and economic decision-makers to meet and exceed their environmental and energy goals, promoting more ambitious sustainability goals around the globe.
---
For more information about Kaiterra's newly awarded Efficient Solutions, our enterprise IAQ monitors, reach out to our team below: