Stay in the loop
Air quality insights and best practices delivered to your inbox every month.
Newsletter
The following article is a summarized and rephrased excerpt from our recent webinar with UL's Sean McCrady: Getting to Know UL's Healthy Buildings Program. Read on for takeaways, or watch the full webinar for free right here.
If the pandemic taught us anything, it's that the places we work can make us sick if the right conditions aren't met. As a result, consumers and employees are much more health-conscious about the buildings they occupy - whether these are offices, restaurants, and shopping malls. Meanwhile, new legislation such as the Inflation Reduction Act creates additional incentives for building owners to promote safety and energy efficiency.
You can reassure clients and customers that you value their concerns, and ensure your building meets present and future regulatory requirements, by becoming accredited with a buildings standards program. We've covered several healthy building certifications previously - and this article will focus on the UL Healthy Buildings program, explain how it works, how you can achieve this certification, and the potential benefits for your business.
What Are Building Standards?
Building standards are codes stating conditions that are acceptable in buildings. They often measure factors such as safety, energy-efficiency, air and water quality, lighting, or thermal comfort.
Government-issued building standards, like the ASHRAE and the IgCC (International Green Construction Code), are mandatory, while some private companies offer voluntary standards that are typically more demanding, and can also carry more weight in the eyes of employees or investors. You can get accredited in these standards by having an inspection and testing done by a standards program, who will usually issue a graded certificate.
How Can Getting Accredited Help?
Achieving higher accreditations can set you apart from the herd. You can use these in your marketing to prove to investors, clients and employees that you are taking the best measures to ensure a healthy and productive workplace.
Accreditation often produces unexpected rewards as the changes made to meet standards can result in energy-savings and happier, more productive staff. For instance, a recent study showed that implementing healthy building upgrades allowed businesses to save $33,000 on average per year by reducing sick leave.
The Key Facts About UL's Verified Healthy Buildings Program
Operating since 1894 and with customers in 125 countries, UL (formerly Underwriters Laboratories) is one of the largest and most well-known safety science companies. They provide standards, inspections, and testing for challenges relating to safety, security and sustainability. UL is approved by US federal agency Occupational Safety and Hazards Association (OSHA) to perform safety testing, and is one of the few companies to operate Nationally Recognized Testing Laboratories.
UL's Verified Healthy Building Program (UVBP) is a comprehensive building standard program that covers air and water quality, lighting, acoustics and building hygiene. This program is for commercial and federal building and business owners who want to communicate their high standards to customers and clients. Companies with UL Verified buildings include Vancouver Airport, Schneider Electric, KBS, and L.A.'s iconic Music Center.
How is UL different from WELL, RESET, and other standards?
A key difference between the UVBP and other standards is that UL helps with the steps needed to reach these standards, and so far, every business that has applied has received the UL Verification Mark. Despite the high pass-rate, the standards maintained by the UVBP are some of the highest, and designed to align with other industry-recognized codes like the ASHRAE, LEEDv4.1, EPA, NIOSH, WHO and CDC. For this reason, if you're looking to get multiple accreditations, you would be wise to begin with the UVBP.
How Does The Program Work?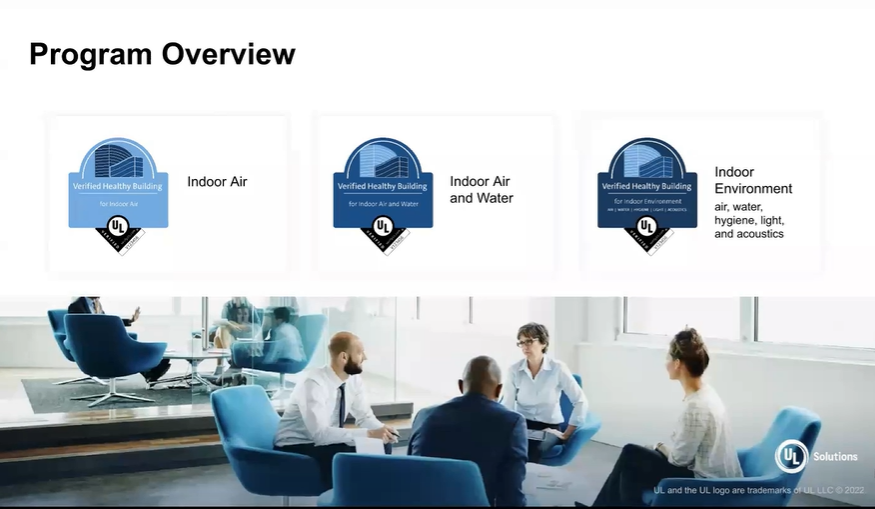 While most accreditations issue graded certificates after an inspection, the UVBP offers a 'UL Verification Mark' in one of three tiers. Tier one refers to air quality, tier two is air and water, and tier three covers both of these, along with lighting, noise, and janitorial effectiveness. Let's take a closer look at what's involved in each tier:
Tier 1: Indoor Air
The first tier concerns indoor air quality (IAQ). The inspection process at this level looks for pollutants in the air in several places throughout the premises. Parameters that they test for include particulate matter, VOCs, CO2, formaldehyde and carbon monoxide. The inspectors will also conduct a thorough examination of the ventilation systems in use, looking under the hood at fan coil units, heat pumps and coil units to make sure everything is in ship shape. The final part of this tier uses thermal imaging cameras to look for any moisture intrusion in the building envelope.
Tier 2: Indoor Air And Water
The second tier includes all parts of the first, but adds water. Inspectors will examine drinking water and moisture in the air for waterborne pathogens and heavy metals. Some of the pathogens tested for include Legionella, coliform bacteria, and E. coli.
Tier 3: Indoor Air, Water, Lighting, Noise, And Janitorial Effectiveness
Tier three is the most comprehensive, featuring all parts of the first two, along with lighting, background noise, and a janitorial assessment. For multi-tenant buildings, lighting examinations focus on stairways and corridors, while single-occupier spaces will also have their workspace lighting optimized. Background noise from machinery, equipment and the building exterior is monitored and reduced where possible. Finally, the inspector examines janitorial strategies for effectiveness and provides suggestions for improved hygiene.
What Is the Process for Getting Verified?
The process for getting a UL Verified Mark has four main stages. These are inspection, evaluation and remediation, accreditation, and reinspection. The UL team differs from most standards institutes in that they provide constant advice and help throughout these stages. We'll take a closer look at how this works below.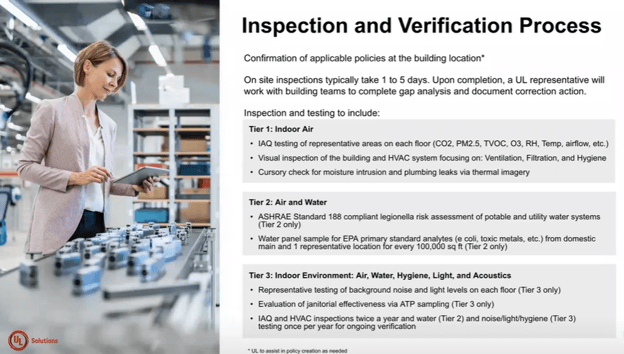 1. Inspection
The first stage of getting a UVBP accreditation is an on-site inspection that usually takes between one day and a week, depending on the size of the premises. This is because all areas of the building are tested. The length of this process also depends on the kind of business. Different versions of the program exist for hospitality, manufacturing, and other industries, because these facilities have different thresholds for air and water pollutants and different light and noise demands.
2. Evaluation Report, Gap Analysis, and Remediation
In the second stage, UL provides a detailed evaluation of the building that includes all of the data collected. They also provide a two-page 'Gap analysis' that summarizes their findings and displays any issues that need addressing. At this stage, UL will provide advice and suggestions on the best ways to fix these issues. With UL's guidance, the building owner then completes the necessary measures.
3. Accreditation
The building is then given a UL Verification Mark for the relevant program tier. This is a virtual mark and can be used in marketing materials, but plaques or window stickers can also be created for display in lobbies and receptions. The business is then added to a website that contains UL's list of verified buildings.
4. Reinspection
Buildings that receive a UL Verified Mark are reinspected at different intervals, depending on the tier they have achieved. For instance, tier one buildings will have their air retested every six months. For water, light and noise concerns, the reinspection is annual. Building owners can sometimes use IAQ monitors in place of the six-monthly reinspection, which we'll discuss next.
Sensors and Sensibility - How to Meet UL's IAQ Requirements
As the only area measured across all three tiers, IAQ is a priority for UL Verification. IAQ is also the program's most regularly reinspected parameter, and is checked every six months, while water, noise, and lighting are reassessed annually. However, time is money, and some building owners will want to avoid the interruption of an extra site visit. Fortunately, UL has recently published some advice on IAQ monitors that can help.
UL 2906 - How Integrated Indoor Air Quality Sensors Can Remove the Need for Regular On-Site Testing
The UL 2906 is a free document that provides advice on the purchase, installation and maintenance of IAQ monitors. Importantly, by following this guidance, you can use your monitors to send data directly to UL and won't need a biannual site visit for air quality. All you'll need to do is show a UL inspector that your sensor use aligns with their guidance. Some of the advice the UL 2906 gives includes:
Prioritizing which parameters to monitor: Some parameters are more important for the health of occupants than others. The UL 2906 examines the most critical elements of IAQ and seeks to put them in order.
Summarizing data: IAQ monitors can produce a lot of information. The UL 2906 provides some strategies for the most effective use of the data provided.
Number of sensors: The guidance describes how to get excellent sensor coverage over larger spaces, along with how often you should check the data produced by each of your sensors.
The importance of industry-recognized sensors: In order to know that your sensor will deliver high-quality data, it's vital to choose an industry-recognized brand. The UL 2906 stresses checking the credentials of your sensors before purchase.
Give Occupants the Data They Want
Everyone likes to know that the conditions they are working in have great standards of air, water, and lighting, and aren't filled with frustrating background noise. You can assure your employees and investors that you're meeting these demands by getting accredited with a building standards institute.
The UL Verified Healthy Building Program goes beyond most by offering guidance throughout the process, covering a wide range of building health parameters, and providing regular re-inspection. The UL 2906 explains how to use IAQ sensors both to get excellent coverage, and free up time by preventing the need for a biannual air quality inspection.
Next steps:

Learn more about how Kaiterra can help you achieve healthy building certifications and other IAQ goals by scheduling a free consultation with an air quality expert below: