The WELL Standard is one of the world's most popular healthy building programs around the world. Designed to optimize the comfort and safety of building occupants, the WELL Standard is a rigorous certification that pushes for a healthier future. Projects must earn over 80 points to earn the highest rating offered by the WELL Standard: WELL Platinum.
Today, we'd like to discuss six projects that have earned a WELL Platinum rating. Each project we included on our list has a noteworthy attribute, whether for sheer size or being a WELL "first," and has been certified WELL Platinum.
Three Garden Road, Hong Kong
Three Garden Road, owned by Champion REIT, was the first existing building in Hong Kong to receive a WELL Platinum certification.
Certified in 2020, Three Garden Road is an office complex located in the central business district of Hong Kong, a bustling center of international commerce. Three Garden Road is one of the largest projects certified by WELL, totaling over 1,600,000 ft². The project features many wellness-focused programs, including a fitness center, classical music concerts, healthy dining and snacking options, and a garden.
International Towers, Australia
Another sizeable entry on our list, International Towers in the Barangaroo area in Australia were certified Platinum as a WELL v1 Core & Shell project in 2018. Composed of three towers, International Towers stretch the central business district of Sydney down to the waterfront.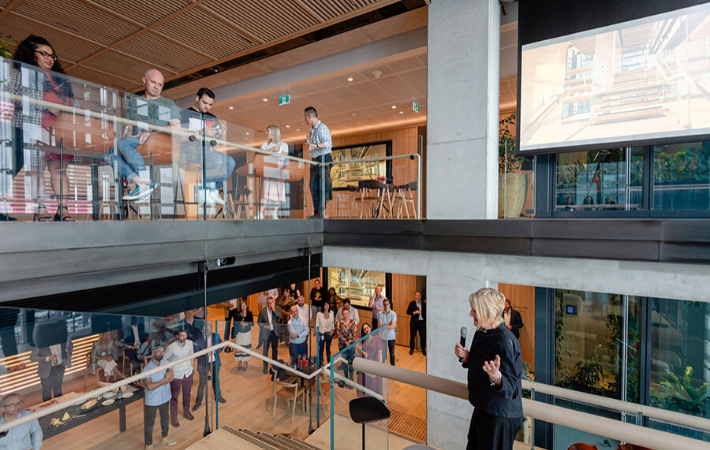 International Towers are now known as "Australia's Most Progressive Workplace," combining environmental efforts with wellness opportunities. The project took a comprehensive, modern approach to healthy building, implementing key initiatives from each of WELL's seven categories.
IWBI NYC Headquarters, USA
Our next entry is an unusual one. After all, it's not often that the organization is certified by its own standard.
The International WELL Building Institute, the organization behind the WELL Standard, is headquartered in New York, New York. Their global office received a WELL Platinum certification in 2019, after relocating to an aging building along Madison Square Park.
The building, originally built in 1913, had unique challenges for the design team, COOKFOX, to overcome, including noise and thermal comfort issues. By earning WELL Platinum with a vintage retrofit, IWBI proved that the WELL Standard is accessible for everyone.
Phipps Center for Sustainable Landscapes, USA
The Center for Sustainable Landscapes (CSL) is an overachiever in the realm of health and sustainable building. As well as earning the first WELL Pilot Platinum certification in 2014, CSL was the first and only building to receive five of the highest green building certifications. CSL currently holds the following ratings:
WELL Platinum (Pilot)
LEED Platinum
Living Building Challenge (LBC)
SITES Platinum
BREEAM Outstanding In-Use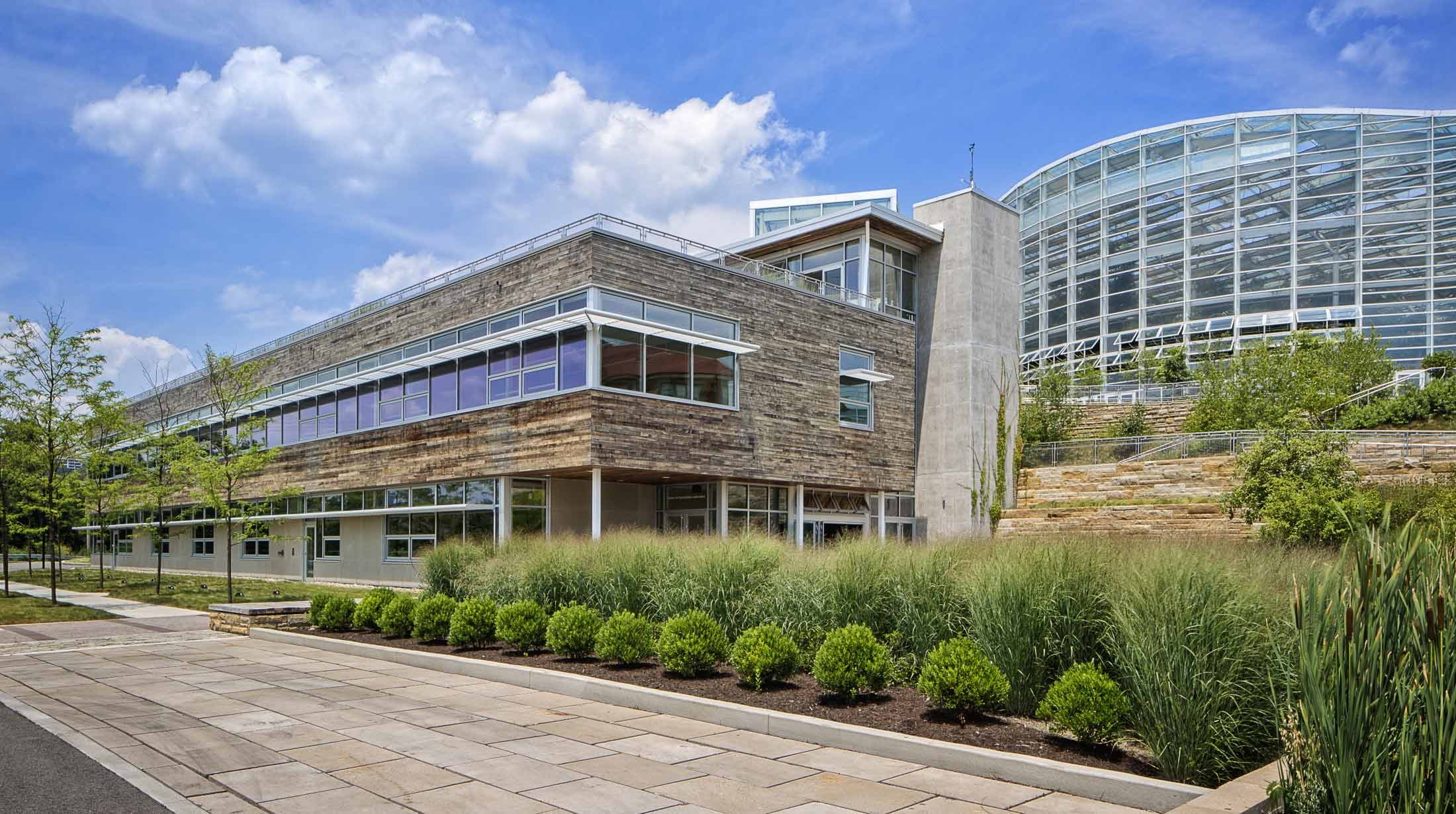 CSL was designed to bridge the gap between nature and the built environment, seamlessly blending biophilic elements into its interior and fitting its exterior into the surrounding environment.
ASID Headquarters, USA
Located in Washington D.C., USA, the American Society of Interior Designers (ASID) headquarters office was the first project to be certified Platinum by both LEED and WELL v1. Demonstrating an exceptional dedication to both the environment and the health and safety of building occupants, ASID balanced energy efficiency and waste reduction with interior environmental conditions and wellness concerns.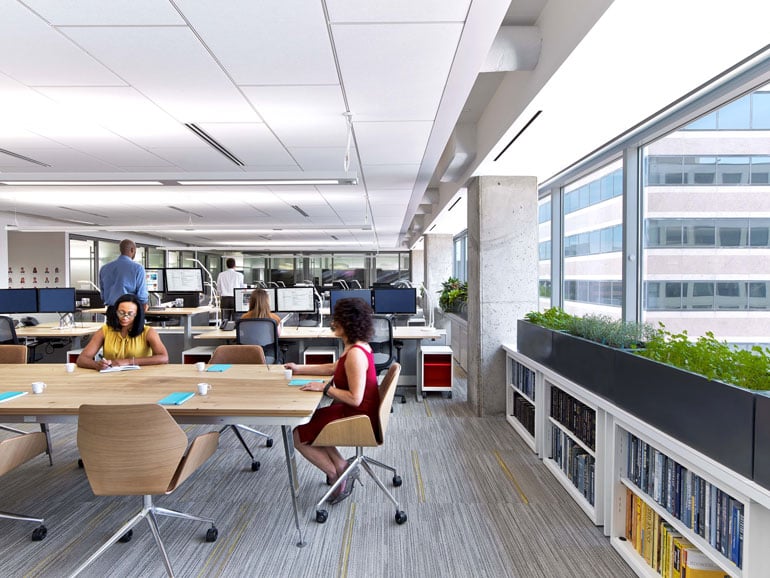 Maintaining the balance between efficiency and well-being is not easy, and required the out-of-the-box thinking and effort of the design team from Perkins+Will, as well as ASID and their team members. After the project was completed and certified in 2017, research from Cornell University found that overall job satisfaction increased, alongside boosts in satisfaction with the interior environment, perceived organizational productivity, and perceived organizational support.
EDGE Technologies Headquarters, Netherlands
No stranger to the WELL Standard, EDGE Technologies was the first organization to receive a Platinum rating under WELL v2 for their headquarters in Amsterdam.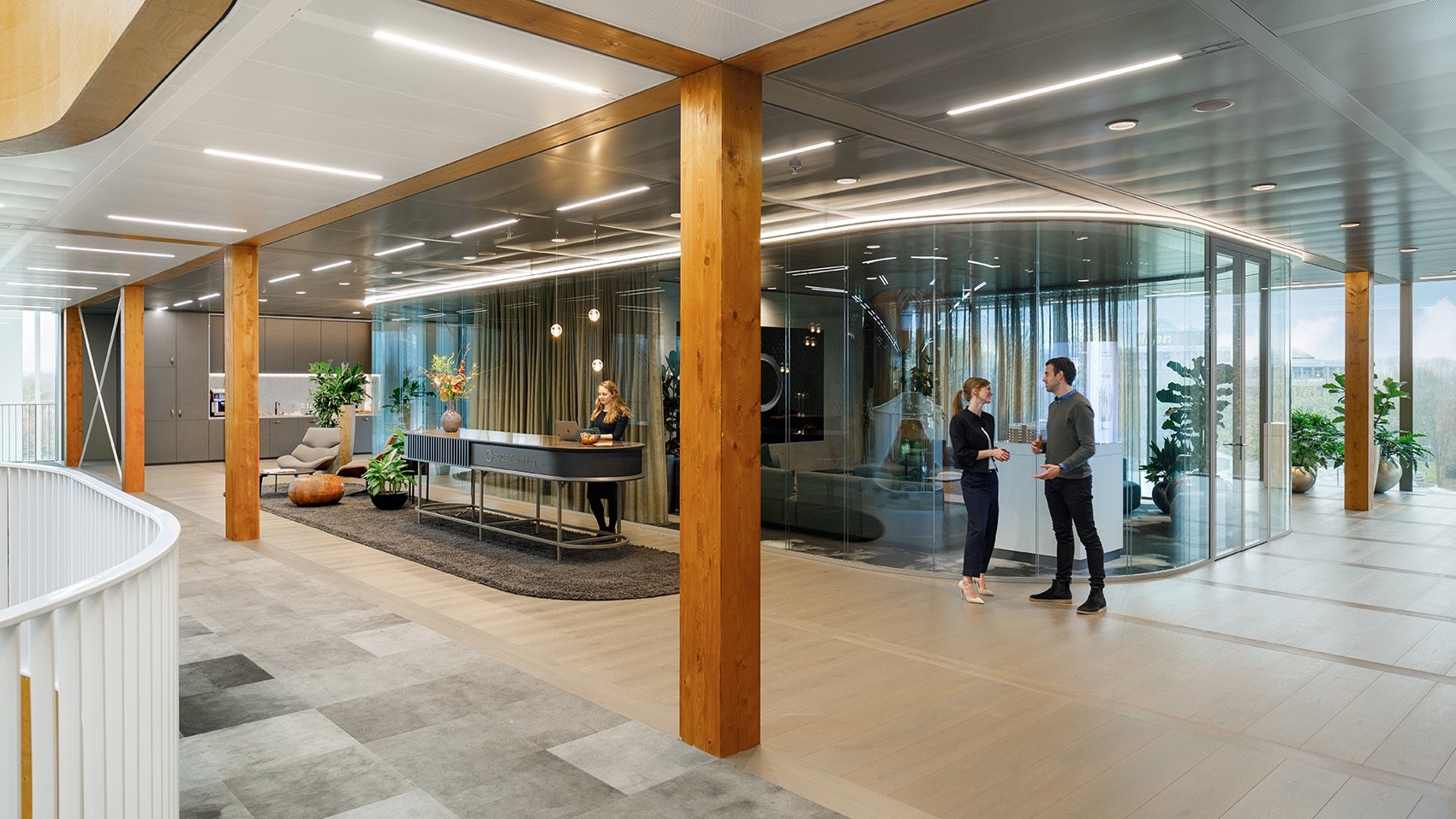 EDGE Technologies used a combination of healthy working options, including fitness opportunities for employees, low VOC-emitting building materials, and varied meeting places. EDGE Technologies also utilized other approaches, such as the addition of a meditation room and optional bi-weekly massages or naps.
---
One crucial element of every WELL project is indoor air quality. Read more below to find out how commercial air quality monitoring can earn you points toward a WELL certification.