Stay in the loop
Air quality insights and best practices delivered to your inbox every month.
Newsletter
Are you looking to work on a WELL v2 project and are interested in how to best utilize the latest version of WELL?
The International WELL Building Institute™ (IWBI™) recently launched its WELL v2™, creating the world's first building standard that focuses exclusively on human health and wellness.
IWBI's holistic approach to indoor building health represents a significant shift in the building industry. This post will explore ways in which diverse projects—either new or existing—can meet this new standard.
What Is WELL v2?
WELL v2 builds off the foundation of WELL v1, with a comprehensive focus on occupant health. The new system is designed to support diverse types of projects and geographies, as well as evolving public health needs—as evidenced in its uniquely tailored scorecard for performance verification.
For those familiar with WELL, WELL v2 brings over the following features and concepts from WELL v1:
10 concepts for WELL v2
WELL v2 sets out to measure a series of metrics, referred to as concepts. This includes features within 10 primary concepts. The 10 concepts include Air, Water, Nourishment, Light, Movement, Thermal Comfort, Sound, Materials, Mind, and Community.
Features include both preconditions and optimizations. To successfully obtain this certification, preconditions and weighted optimizations must be satisfied.
Universal preconditions
WELL outlines a set of universal preconditions that projects must meet for certification.
These are mandatory features that are deemed indispensable to human health in indoor environments.
Flexible optimizations
Flexible optimizations are features that demonstrate additional achievements for the v2 certification. While they are not mandatory, projects can accrue additional recognition for higher levels of certification (silver, gold, or platinum).
Performance verification
A project's certification is computed by an overall WELL score that encompasses the project's completion of preconditions and optimizations. A verification is done through an on-site assessment by a WELL Assessor. The verification is complete once all respective documents have been submitted and approved.
Why Is Clean Indoor Air Important?
Achieving clean indoor air is a core aspect of any healthy building and critical in meeting the WELL v2 certification.
Since people spend roughly 90% of their days indoors, clean indoor air is critical for human health. The U.S. Environmental Protection Agency has found that indoor air can be two to five times more polluted than outside. Poor indoor air quality can cause both short-term and long-term health risks.
Studies have found that exposure to high levels of indoor air pollutants, such as volatile organic compounds (VOCs), can lead to headaches, dry throat, eye irritation, and runny noses. More serious effects of VOCs can include asthma attacks, poisoning, and cancer. Exposure to particulate matter can cause respiratory and cardiovascular diseases such as asthma and heart disease.
By ensuring that indoor air is maintained, buildings can improve their bottom line by boosting employee productivity and overall revenues. For example, CO2 increases of 400ppm can lead to a decrease in productivity of 21%. In a study led by Harvard University, poor indoor air quality can cost companies up to $15,500 in losses per employee a year.
The World Health Organization and other public health authorities have outlined permissible exposure limits to protect human health against such indoor air pollutants. WELL v2 outlines requirements based on these recommendations.
Buildings can achieve and maintain safe levels of air with an air quality monitoring system. Air quality monitors indicate when air quality is above or below permitted thresholds and allow pollution management systems to be simple, cost-effective, and seamless.
Your Vehicle to WELL v2 Certification: Meet the Sensedge
Designed together with architects, building developers, and accredited professionals, the Sensedge provides accurate and continuous air quality monitoring that helps you make healthier decisions for your indoor environment.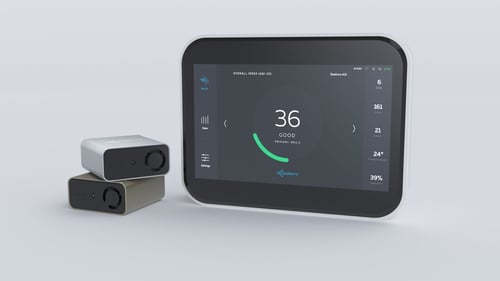 A healthy building prioritizes indoor air health for all occupants. The Sensedge, or the Sensedge Mini - the newest addition to the family of Kaiterra enterprise products - can be your project's vehicle to achieving WELL v2 certification with unique customizable, removable sensors, ongoing data reports, and many more features. Learn how indoor air quality monitoring can be the right choice for your project.