Stay in the loop
Air quality insights and best practices delivered to your inbox every month.
Newsletter
How are the most clued-in companies managing IAQ in the post-pandemic, post return-to-office world?
To gain insight into this question, we've conducted a survey of 325 industry leaders and employees in fields such as architecture, construction, building service, and many others. Take a look at the results to learn:
What do staff and managers want from their IAQ systems?
Which parameters are they prioritizing?
Which technology are they using?
And to gauge how your business is measuring up. This is an excerpt from our new whitepaper on the State of Indoor Air Quality in 2023, which you can download here.
IAQ is a Major Concern - Particularly for Employees
Despite the pandemic no longer dominating headlines, people have not forgotten the importance of indoor air quality. Within the companies that we surveyed, the groups most concerned with IAQ were employees and occupants (61%), followed by building and facilities teams (56%), and sustainability teams (45%). Worryingly, the least engaged group was executives and board members, at 26%.
The most common motivations for improving indoor air quality were improving workplace experience (81%), and building operation efficiency (65%).
"stuffiness and Odors caused by inadequate ventilation" was identified as a top concern when it comes to indoor air quality (74%), followed by "increased viral transmission" (62%) and "impact from outdoor pollution, such as traffic, wildfires and factories" (45%).


Takeaway:
If you're a company or building owner, board member, or director: take note. These results indicate that your employees and occupants are likely more than twice as worried about their air quality as you are. A recent study shows that 50% of employees still experience anxiety around catching COVID-19 in the workplace, leading to significantly reduced productivity. Don't forget that a business is only as good as its employees, and they may go elsewhere if they feel that their health isn't valued.
Most Companies are Taking Steps to Improve Air Quality
83% of the companies we surveyed were taking active steps to address staff concerns over air quality. The most common upgrades were real-time air quality monitors (68%) and improvements to HVAC systems (38%). Less popular forms of IAQ improvement include periodic air quality testing and retrofitted air purifiers, both of which were used by 23% of respondents.

Takeaway:
These results tell us that most of the companies surveyed have their priorities straight when choosing methods of improving IAQ. Real-time IAQ monitors provide a far more detailed picture than periodic monitoring, allowing companies to reassure or warn staff in a timely manner. Most of these companies understand that our air is constantly changing, and the snapshot provided by periodic monitoring is not likely to shed any light on parameter levels the following day.
Budget, Knowledge, and Experience are the Biggest IAQ Challenges
Companies are in overwhelming agreement that IAQ solutions should be prioritized. In fact, only 12% of participants claimed not to view IAQ as an urgent issue. However, some companies perceived obstacles concerning expense and expertise. The biggest barrier to IAQ related improvement was lack of budget, which 46% of companies reported to be a problem. A similar proportion of companies (44%) saw inadequate knowledge and experience of IAQ solutions as a barrier to making changes.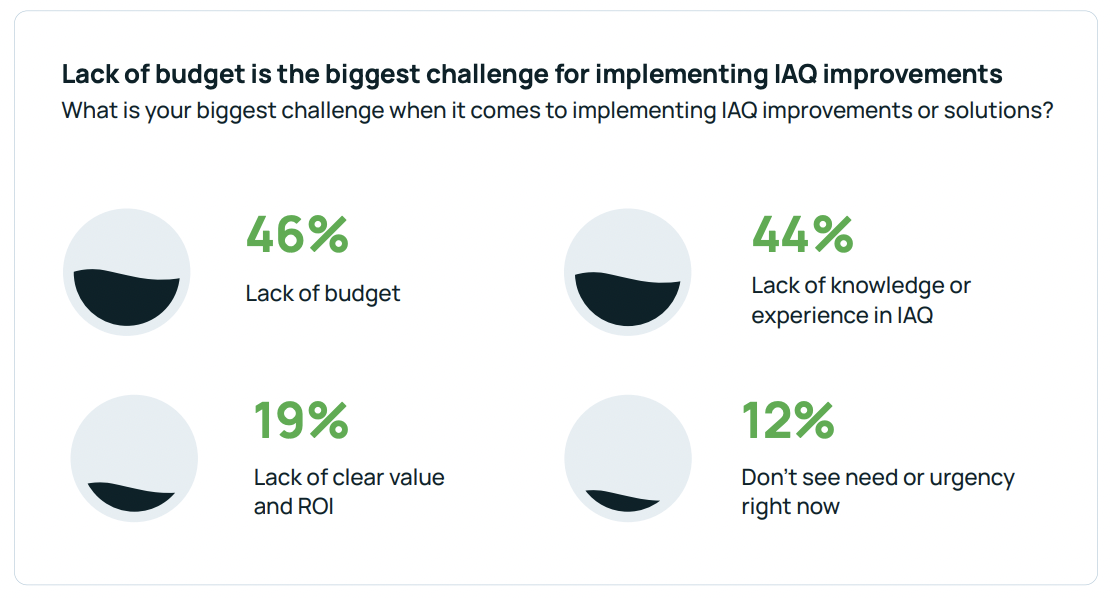 Takeaway:
Encouragingly, a huge proportion of the survey respondents acknowledge the value of IAQ. However, while budget is understandably an issue for some, it is important to realize that IAQ improvements are long term investments that can eventually cover their costs many times over. For instance, research by the Lawrence Berkeley National Laboratory has shown that IAQ improvements can boost workplace productivity by 10%, while another study showed that improved ventilation rates led to 35% staff sick days.
This is not to mention the energy savings that IAQ improvements bring. Older or faulty HVAC systems cost a lot more to run than newer, more efficient models, while understanding the level of ventilation you really need means that you can prevent overuse. For example, one study showed that demand controlled ventilation using IAQ monitors can reduce HVAC energy output by 70%.
Companies Will Spend More on IAQ in 2023
In a further sign that employees' voices are being heard, most companies (81%) reported that they will increase their IAQ budget in 2023. 61% of these companies forecasted increased spending on real-time IAQ monitoring, while 57% expected to spend more on improvements to HVAC systems.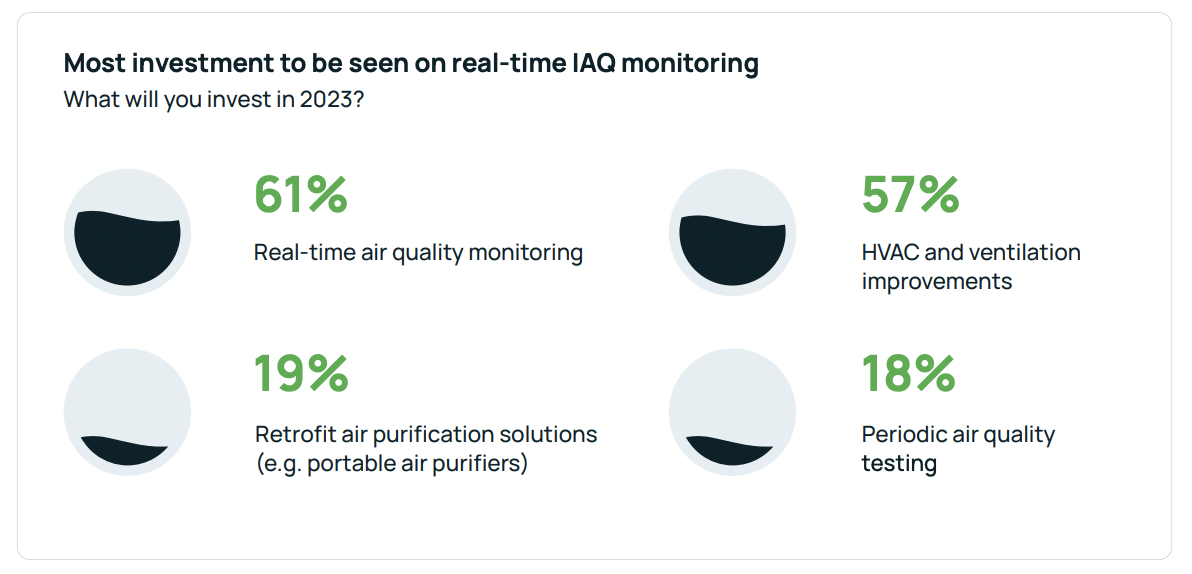 Takeaway:
The intentions of our respondents to spend more on their air reflects IAQ's increasing prominence within the public and business realms. This shift (spurred partly by COVID-19) has made IAQ an issue of huge importance for ESG reporting, as a means of gaining new investors and preventing others from jumping ship. Stepping up your ESG commitments through IAQ is a great way to reassure these clients and investors that you have both your employee's and the environment's best interests at heart.
Ease of Deployment, Data Analytics, and Hardware Quality are Essential when Choosing IAQ Monitors
With real-time air quality monitoring being by far the most popular IAQ improvement option, companies are showing different preferences when it comes to what they look for in IAQ monitors. The most important factor for participants was a monitor's ability to measure basic IAQ parameters, such as CO2, VOCs, and particulate matter. The ability to measure additional IAQ parameters such as ozone, radon, and carbon monoxide or IEQ parameters such as occupancy, light, and sound were not prioritized. Ease of installation and deployment was also ranked very important, followed by data analytics and reporting, and hardware qualities such as accuracy, design and appearance.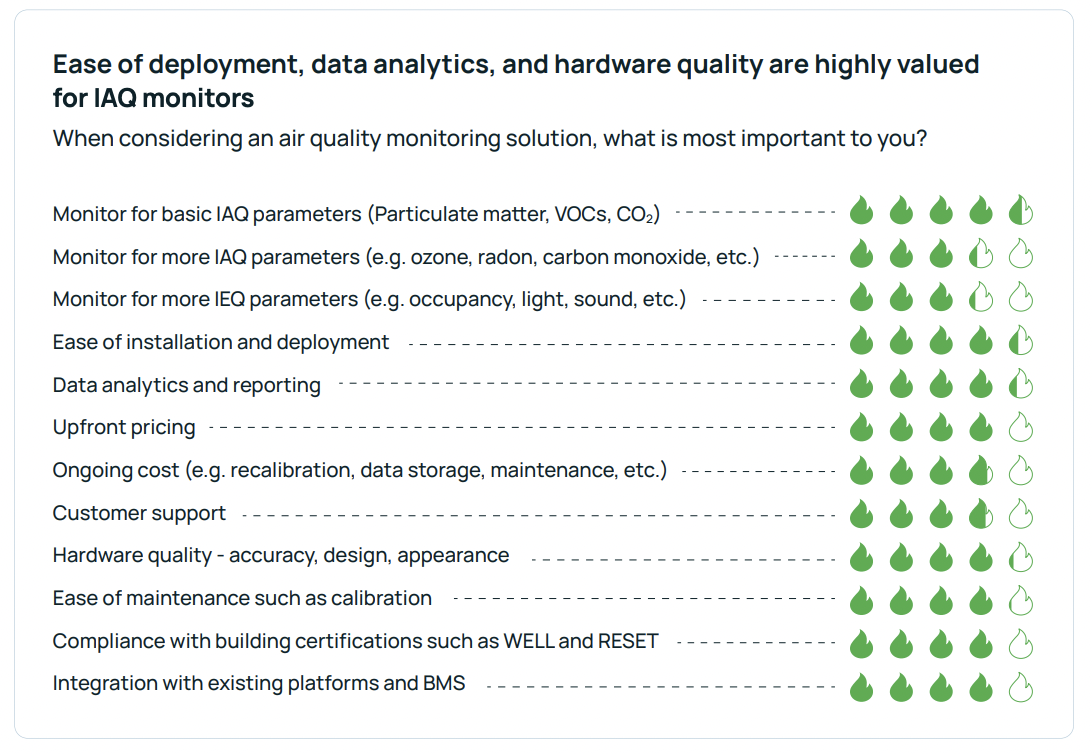 Takeaway:
This final answer will tell you what some of the most informed companies are looking for in their IAQ monitors - and they're not wrong. While these respondents may have undervalued some important parameters, their preferences reflect must-haves for IAQ monitors. Particulate matter, CO2, and VOCS are indeed the most persistent hazards that our air contains, being ever-present and dangerous in higher quantities.
Ease of installation and deployment are also essential, especially for those without IAQ expertise. Make sure to look for monitors featuring modular sensors for maximum user friendliness and minimal downtime. Likewise, many IAQ monitors don't allow for the smooth operation of data analytics and reporting that our respondents have prioritized. You can overcome this issue by researching models featuring automatic reporting and self-service analytics.
Get the Full Report to Learn More
The IAQ-adjacent professionals we've surveyed provide a great benchmark to measure your standards against, but there is always room for improvement.
Grab a copy of the full report to learn the latest industry insights, including:
The business case for indoor air quality in 2023
Current IAQ adoption and trends that will shape 2023
Industry challenges and opportunities going forward
Indoor air quality global data benchmarks from 2022
Download it below: