Stay in the loop
Air quality insights and best practices delivered to your inbox every month.
Newsletter
Organizations want to improve their buildings, but need a level of flexibility to do so. Acknowledging that, the International WELL Building Institute™ (IWBI™) launched its WELL Performance Rating, providing a roadmap for leveraging building performance and occupant experience data to shift business performance and organizational culture.
Consisting of existing features drawn from WELL v2, such as indoor air quality, water quality, thermal comfort, and more, the WELL Performance Rating is developed with IWBI Member companies including Kaiterra as well as Carrier, Honeywell, Johnson Controls, Schneider Electric, and Trane Technologies.
In this blog post, we will explore what the rating includes, how it's different from WELL v2, and specifically how IAQ plays a part in the new rating.
What is the WELL Performance Rating?
The WELL Performance Rating is a new designation encouraging building owners and facility managers to use performance metrics to validate and improve the built environment, as well as the health and wellbeing of the people inside.
The rating was developed to meet the strong market demand for a solution to increase building performance and transparency and to put data into practice such as for return to work strategies for ESG reporting. It shifts the continuous monitoring landscape to start incorporating health and wellbeing metrics into ongoing reports, and helps to align industry professionals and stakeholders around a set of best practices related to the specifications, installation, and calibration of sensor technologies.
Rooted in the WELL Building Standard, the WELL Performance Rating focuses on measurable building performance strategies within WELL that are verified through onsite testing and sensor technology, as well as occupant experience surveys, so organizations can make smarter, data-driven decisions for their employees and business.
"There is new urgency in how we shape, guide and foster advancements in building performance to better align with the science of supporting human health. Through this collaborative launch of the WELL Performance Rating, we are doubling down on that promise of actionable, evidence-based solutions to drive continuous improvement across the key health metrics that help enhance productivity, increase comfort and support well-being."


- Liam Bates, Co-Founder and CEO, Kaiterra, IWBI Performance Advisor
Similar to the WELL Health-Safety Rating and the forthcoming WELL Health Equity Rating, the WELL Performance Rating can be achieved as a stand-alone designation or milestone along the way to WELL v2 Certification at different levels.
Core Components of The WELL Performance Rating
The Performance Rating is a subset of the features from WELL v2, mostly in the Air and Thermal Comfort concepts, but it introduces new ways to approach some of them. There are currently 33 features across seven themes, which can grow as the rating evolves:
Indoor Air Quality (9 features)

Water Quality Management (4 features)

Lighting Measurement (2 features)

Thermal Conditions (2 features)

Acoustic Performance (5 features)

Environmental Monitoring (6 features)

Occupant Experience (5 features)
Projects must achieve 21 features to achieve the WELL Performance Rating.
Environmental monitoring is a new theme introduced which clumps together features that require monitoring of certain parameters, but does not require that projects meet threshold requirements. The intent of these features is to encourage project teams to regularly monitor and audit the indoor environment.
Occupant experience is another theme unique to the Performance Rating - the requirements still originate from the WELL v2 Standard but specifically revolve around surveys that are prescribed in community and thermal comfort concepts.
Projects must achieve 21 features to achieve the WELL Performance Rating. As we will expand below, the Performance Rating is 'all or nothing' - you either meet the criteria or you don't - unlike WELL v2 which has various levels of certification.
3 Key Pathways for Verification:
Organizations can leverage a combination of onsite testing, sensor technology, and occupant surveys. While it's possible to rely exclusively on monitoring or testing, most companies would use some combination of the following 3 verification pathways:
On-site, short-term test results conducted by a WELL Performance Testing Agent or other qualified professional

Data collected from permanently installed continuous monitors - read more below about expanded continuous monitoring pathways

Insights drawn from occupant experience-reported through surveys and other methods


[source]
How is WELL Performance Rating Different From WELL v2?
WELL v2
WELL v2 sets out to measure a series of metrics, referred to as concepts. This includes features within 10 primary concepts. The 10 concepts include Air, Water, Nourishment, Light, Movement, Thermal Comfort, Sound, Materials, Mind, and Community.
Features include both preconditions and optimizations. To successfully obtain this certification, preconditions and weighted optimizations must be satisfied.
A project's certification is computed by an overall WELL score that encompasses the project's completion of preconditions and optimizations. Verification is done through an on-site assessment by a WELL Assessor. The verification is complete once all respective documents have been submitted and approved.
Read more about WELL v2 here.
WELL Performance Rating
As we mentioned earlier, the WELL Performance Rating includes 33 features across seven themes that overlap with WELL v2, such as Indoor Air Quality, Water Quality, Light Measurement, etc.
The ultimate difference between WELL Performance Rating and WELL v2 is that features in WELL Performance Rating focus heavily on performance-based metrics, and most of them require to be verified by sensor data and/or performance tests. Technical documents, ongoing data reports, and letters of assurance are accepted for several features as well.
With the WELL Performance Rating, single levels of achievement are made possible as there are no tiers or rewards to attain. There are also no preconditions or points that must first be satisfied — this allows for the flexibility in determining which ratings are pursued.
Another difference is in the simplified documentation review process as projects can submit all documents together instead of in stages. Two rounds of review are conducted, with the opportunity for projects to make updates or clarifications during the preliminary and final stages.
What's New About IAQ in WELL Performance Rating
Indoor air quality remains the front and center of WELL Performance Rating because of its important impact on occupant wellbeing.
By investing in IAQ monitoring, projects can potentially score points on 9 features under the "Indoor Air Quality" category (PA1~PA9), as well as 3 additional features under the "Environmental Monitoring" category for measuring air parameters(PM1), installing IAQ monitors(PM3), and promoting air quality awareness (PM3). This adds up to 12 features out of the total 33, and you will only need 9 more in other categories to meet the 21-feature requirement to achieve the rating.
Focus on the continuous monitoring pathway
With the big focus on performance-based metrics, continuous monitoring now plays an even more important part in WELL Performance Rating. What's even better is that continuous monitoring pathways can be applied also to WELL v1 and v2.
In a recent webinar, Eric Sun of IWBI explained the logic behind expanding the continuous monitoring pathway to measure building performance:
Building and human performance is really dynamic and can quickly change. Air quality can be impacted by seasonal... Water quality can deteriorate after periods of prolonged inactivity and acoustic dynamics can really change with reduced occupancy. These changes can significantly impact performance yet may go unnoticed with spread out elongated testing intervals. We see continuous monitoring technologies as a way to fill this gap by providing more environmental data to help projects better understand how their spaces are performing.


- Eric Sun, IWBI (source)
Indoor air quality and thermal comfort parameters that now can be verified via the continuous monitoring pathway include:
Particulate Matter 2.5

Particulate Matter 10

Total Volatile Organic Compounds

Carbon Monoxide

Ozone

Radon

Carbon Dioxide

Formaldehyde

Nitrogen Dioxide

Temperature (dry-bulb)

Relative Humidity
Additional details can be found in the Performance Verification Guidebook - a technical manual that covers all aspects of performance-based features, including how to place sensors and sampling points, the required density and specifications for analytical techniques, and the range and calibration periods for direct read devices and sensors. The Guidebook also includes a section on continuous monitoring, which provides detailed information on how to use and maintain continuous monitors.
Monitor placement now includes ceiling installation
Previously, monitors needed to be installed on a wall (vertically), at a height of 1.1-1.7 m [3.6-5.6 ft] above the finished floor. With this update, monitors can also be installed on a ceiling (horizontally). But note that this placement option is only applicable in spaces, 1) with ceilings are no greater than 3.7 m [12 ft] above the finished floor, 2) that do not utilize displacement ventilation, and 3) there is evidence that the air is evenly mixed.
Monitor density now depends on project size and requires minimums
For all parameters except radon:
Projects with occupiable space of < 3250 m2: 1 monitor per 325 m2 [3,500 ft2 ] in occupiable spaces (minimum 2)

Projects with occupiable space of 3250-25,000 m2 : 1 monitor per 500 m2 [5,400 ft2 ] in occupiable spaces (minimum 10)

Projects with occupiable space of > 25,000 m2 : 1 monitor per 1000 m2 [10,800 ft2 ] in occupiable spaces (minimum 50)
Projects with large open spaces are eligible for alternative (relaxed) monitoring density if they can demonstrate sufficient air mixing - usually, this would be in large open spaces, and also depend on the performance of the HVAC systems.
Field calibration is available
Air quality sensors are required to be recalibrated or replaced annually for data accuracy. Field calibrations using a reference sensor are acceptable, however, sensors need to be co-located, and the calibration period must capture a sufficient range and concentration of contaminant—either using known span gases or exposure to ambient pollution—to accurately perform adjustments.
The Sensor Data Template
Cleaning up sensor data and submitting it in a unified format can be time-consuming for project teams. To help ease this process, One of the big changes introduced was the Sensor Data Template.
The template provides a standardized way of submitting sensor data that is easier to collect and review. The template helps to streamline the submission process by asking for sensor data in a unified format, and makes the data easier for IWBI to analyze in the review process. There are also templates to submit floor plans.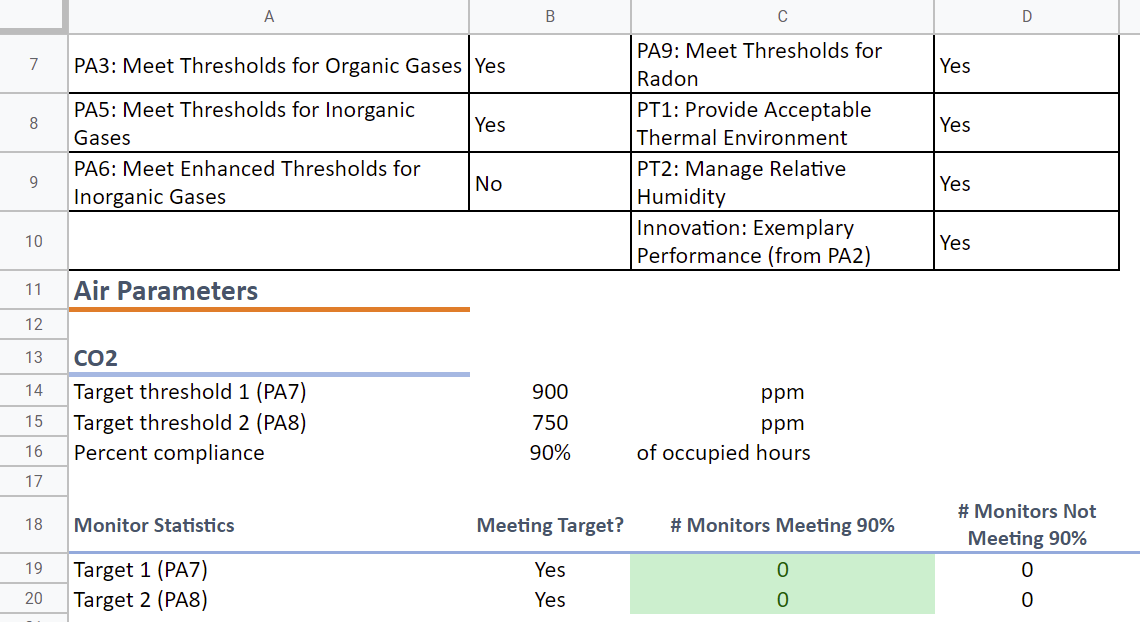 Using the template will ultimately save time for project teams and make it easier to submit compliant projects, and it's a useful tool for IAQ monitoring in general. You can download a copy of the template from WELL
Achieving and Renewing the WELL Performance Rating
The first step for an organization to achieve the WELL Performance Rating is to define the health and wellbeing goals and select specific strategies that best achieve these goals.
As we've covered above, a combination of testing, continuous monitoring, and surveys can be used to track real time performance results. This helps to streamline the review timeline and expedite the overall process. Upon achievement, organizations can use insights and conversations with investors and stakeholders to embed outcomes into annual ESG and reporting.
The timeframes involved:
One month of data is needed to achieve the Performance Rating
The previous year's worth of data is required for renewal
How Kaiterra's Indoor Air Quality Monitoring Helps Achieve Certification
Kaiterra's award-wining air quality monitors can help you monitor indoor air quality parameters including PM2.5, PM10, TVOC, CO2, Ozone, as well as thermal comfort parameters such as temperature and humidity, thus helping you secure up to 13 points on the following WELL Performance Rating features:
Indoor Air Quality (+ 7 points)

PA1 Meet Thresholds for Particulate Matter

PA2 Meet Enhanced Thresholds for Particulate Matter

PA3 Meet Thresholds for Organic Gases

PA4 Meet Enhanced Thresholds for Organic Gases

PA5 Meet Thresholds for Inorganic Gases

PA7 Ensure Adequate Ventilation

PA8 Increase Outdoor Air Supply

Thermal Conditions (+ 2 points)

PT1 Provide Acceptable Thermal Environment

PT2 Manage Relative Humidity

Environmental Monitoring (+ 4 points )

PM1 Measure Air Parameters

PM2 Install Indoor Air Monitors

PM3 Promote Air Quality Awareness

PM4 Monitor Thermal Environment
Modular design is still the best choice
Under the new WELL Performance Verification Guidebook 2021 Q4, air quality sensors are required to be recalibrated or replaced annually for data accuracy. Field calibration is added as an allowed alternative, and software calibration remains invalid.
Field calibration may sound like a promising choice, however, it is usually more complicated and expensive. In a typical field calibration procedure, a reference-grade sensor is used side by side with the sensor that needs recalibration, and a set of reference values with multiple data points is needed to perform the recalibration properly. Due to the complexity of the procedure, a trained professional is usually required to be onsite to perform the procedure and provide the necessary equipment, which makes field calibration a time-consuming and costly choice.
Kaiterra's air quality monitors possess a one-of-a-kind modular design, making it easy to swap out each parameter's sensor within minutes, completely eliminating the need for field or off-site calibration and the associated price tag.
As an added benefit, new sensors also come with a certificate of calibration that can be submitted on the WELL digital platform, ensuring that all calibration requirements are met.
Learn more about our signature modular design here.
---
Ready for the WELL Performance Rating?
Reach out to our team of experts to learn more about the WELL Performance Rating, and how our enterprise air quality monitoring solution can help you in achieving your goals now: