There are many facets to healthy indoor environments, from acoustics and lighting to ergonomics and thermal comfort. One of the most important of these facets is indoor air quality. With a deep connection to health and well-being, promoting good indoor air quality is essential for building occupant health and is crucial for earning a WELL certification.
2021 WELL v2 updates summary
We've updated this article for information included in WELL v2 2021 Q3, and the changes are summarized below.
A01 Part 2: For projects utilizing continuous monitoring, changes to the data timeframe for TVOC levels.
T06 Part 1: Changes to device requirements for temperature and relative humidity instrument accuracy.
A01 Part 1: Modified thresholds are now available in polluted regions for particulate matter.
A01 Part 2: Thresholds for organic gases can now be met with a performance test or continuous monitoring.
A08 Part 1: Sensing accuracy requirements have been changed for each parameter.
A08 Part 2: There is no longer an air quality education component, and air quality data must also include qualitative results (i.e. color-coded readings).
What Is WELL?
The WELL Standard was established by the International WELL Building Institute (IWBI) to advance health and wellness through the transformation of the built environment.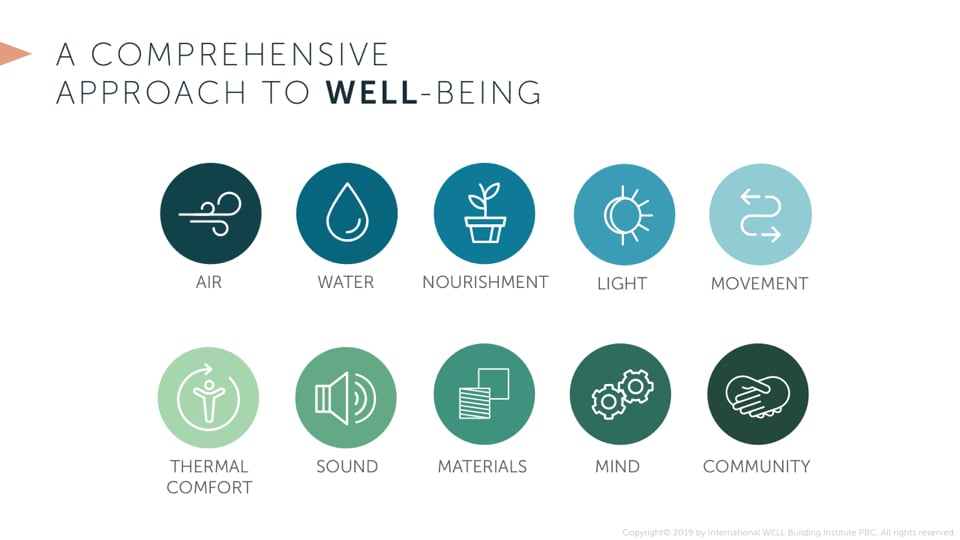 Image via https://www.wellcertified.com/
Building off WELL v1, IWBI launched the WELL v2 program, which focuses almost exclusively on building occupant health and well-being. Because the enormous impact of air quality on our bodies, air is one of the central concepts WELL aims to enhance. In the context of WELL as a certification program, improving air quality and air quality awareness can earn many points toward certification.
Achieving IWBI WELL V2 With IAQ Optimizations
Indoor air quality optimizations can help you secure the precondition A01, as well as earn your project points through A08 and T06. We've broken down these categories below.
A01 Air Quality (precondition)
The first feature listed under the Air concept is A01 Air Quality, which provides air quality thresholds to be verified either through air testing or continuous monitoring. A01 has five parts, which detail air quality thresholds for different air pollutant types and how to verify that levels within a project do not exceed these limits.
Part 1: PM2.5 levels are 15 μg/m³ or lower, and PM10 levels are 50 μg/m³ or lower, to be verified through a performance test. Alternative thresholds are available for projects in highly polluted areas.
Part 2: Benzene levels are 10 μg/m³ or lower, formaldehyde levels are 50 μg/m³ or lower, and toluene levels are 300 μg/m³ or lower for projects using air testing. For projects utilizing continuous monitoring, data no less than the previous one month demonstrates TVOC levels are 500 μg/m³ or lower for 90% of regularly occupied hours.
Part 3: Carbon monoxide levels are

10 mg/m³ [9 ppm] or lower, and ozone levels are 100 µg/m³ [51 ppb] or lower, to be verified through a performance test.

Part 4: Radon levels are 0.15 Bq/L [4 pCi/L] or lower, to be verified by a Letter of Assurance.
Part 5: The pollutants listed in Parts 1-3 are measured annually and submitted through the WELL Digital Platform. Continuous monitors follow the requirements found in the Performance Verification Guidebook.
A08 Air Quality Monitoring and Awareness (2 points)
WELL divides air quality monitoring and awareness optimization into two distinct parts. Part I focuses on implementing air quality monitors, and Part II focuses on promoting air quality awareness.
Part I: Implementing air quality monitors is worth one point and sets air quality parameter, density, data, and calibration requirements for air quality monitors used for WELL. To satisfy these criteria, monitors must measure three of the following:
PM2.5 or PM10

(accuracy 25% at 50 μg/m³)

Carbon dioxide

(accuracy 10% at 750 ppm)

Carbon monoxide

(accuracy 1 ppm at values between 0 and 10 ppm)

Ozone

(accuracy 10 ppb at values between 0 and 100 ppb)

Nitrogen dioxide (accuracy 20 ppb at values between 0 and 100 ppb)
Total VOCs

(accuracy 25% at 500 μg/m³)

Formaldehyde (accuracy 20 ppb at values between 0 and 100 ppb)
The placement, density, and data collection frequency of the monitors also must fit the following criteria:
Monitor density is at least one sensor per 3500 ft

2

of

occupiable space.

Monitors are located

3.6-5.6 ft above the finished floor at locations where occupants would typically be seated or standing and at least 3.3 ft away from doors, operable windows and air supply/exhaust outlets.
Measurements are taken at intervals of no longer than 10 minutes for particulate matter and carbon dioxide and no longer than one hour for other pollutants.

Data are submitted annually through the WELL digital platform.

Monitors are recalibrated or replaced annually, and projects submit documentation attesting to their calibration or replacement annually through the WELL digital platform.
Part II: Promote Air Quality Awareness takes Part I a step further. To encourage the dispersion of air quality data to regular building occupants, WELL offers an additional point for projects to display their air quality data either through display screens or through digital means, including a phone application or website.
T06 Thermal Air Comfort Monitoring (1 point)
To attain points for T06, projects must monitor thermal parameters (dry-bulb temperature and relative humidity) in real-time and display environmental measures according to specific guidelines. The following monitor requirements must be satisfied for your building project to gain points for thermal comfort monitoring:
Sensors are located in occupiable areas; 3.6-5.6 ft above the floor; and at least 3.3 ft away from exterior walls, doors, direct sunlight, air supply/exhausts, mechanical fans, heaters or any other significant source of heat or cold.

There is a minimum of one sensor per 3,500 ft

2

of occupiable floor area.

Measurements are taken at least once every 15 minutes.

Sensors comply with the Device Requirements listed in the WELL Performance Verification Guidebook.

Data are submitted annually through the WELL digital platform.

Sensors are recalibrated or replaced at least every three years and certificates attesting their calibration or replacement are submitted every three years through the WELL digital platform.
Like Part II from A08, projects need to go beyond parameter monitoring and provide thermal comfort values to regular building occupants. Again, these readings can be provided by a display or through digital options, including a phone application or website.
Earning Points Toward WELL With Air Quality Monitoring From Kaiterra
From installation to air quality education, Kaiterra's line of commercial devices is designed to help you achieve WELL v2 optimization A08, adding two points to your WELL application.
Continuous monitoring
Kaiterra's commercial air quality monitors sample for PM2.5, TVOC, CO2, dry-bulb temperature, and relative humidity every minute, exceeding the required sample interval of ten minutes or less. Monitoring PM2.5, CO2 and TVOC will qualify you for points under Part 1 of A08, and monitoring TVOC levels will also help you achieve Part 2 of A01. Accuracy and resolution also satisfy WELL's requirements.
Annual and certified sensor calibration
Kaiterra's commercial air quality monitors use a modular design to meet WELL's annual calibration requirements. Instead of having to remove and ship the monitor to a calibration facility, Kaiterra's modular sensors can be swapped out with new sensors for convenient, efficient calibration.
These new sensors also come with a certificate of calibration that can be submitted on the WELL digital platform, ensuring that all calibration requirements are met on a cost-effective basis.
Flexible data export
Whether online or offline, Kaiterra commercial devices easily export data over email, USB, or micro-SD memory card. This data collection allows you to access your project and submit your performance verification on the WELL digital platform.
Simple installation
The Sensedge and Sensedge Mini can be easily installed in under 10 minutes, and the Sensedge can be prominently displayed in regularly occupied spaces to suit the optimization's placement requirements.
Connected dashboard & online resources
A08 features a measurement display component, requiring air quality values to be available to regular building occupants. To achieve this component of A08, you can use the Kaiterra dashboard, a powerful tool for viewing and comparing real-time air quality readings accessible through your browser and phone and directly through our API key.
Proven Success: Kaiterra Commercial Air Quality Monitoring in IWBI's NYC Office
In 2019, IWBI's global headquarters relocated its office and earned a WELL Platinum rating.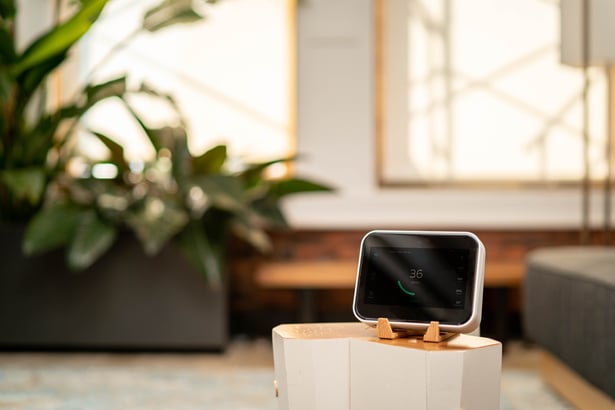 Featuring Kaiterra's Sensedge, among other indoor health optimizations, IWBI received over 80 points toward its own certification program. To read more about this project, check out our full case study: How IWBI Transformed Its Aging NYC Office Into a Healthy Workplace.
---
Kaiterra's commercial indoor air quality monitoring solutions are great options for not only WELL, but also RESET, LEED, and more. Find out more about our commercial line of air quality monitors by reaching out to our team below!