RESET is the world's first sensor-based and performance-driven building certification program. It's among the most comprehensive and accessible building standards for air quality that uniquely focuses on indoor air health for occupants. Earlier this year, the RESET Air v2.0 standards officially launched and are ready for project application.
Today, building professionals expect healthier indoor spaces and higher air quality. One of the really big things that sets RESET Air apart from other certifications is that it measures air quality during occupancy. Attaining the RESET certification ensures that your facility meets regulatory standards and also helps building staff understand how to maintain better air quality while people are inside.
If you are applying for the RESET Air v2.0 certification for Commercial Interiors, you are joining the next generation of architects, building developers, and accredited professionals. You're among leaders who design healthy building projects of the future.
In this post, we provide a step-by-step overview of how to meet the new RESET Air v2.0 standards for your next building project.
Why Is Indoor Air Important?
Achieving clean indoor air is critical to meeting RESET Air v2.0 certification. It's a core component of any healthy building. It's estimated that we spend upwards of 90% of our time indoors. What's alarming is that the U.S. Environmental Protection Agency (EPA) has found that indoor air can be two to five times more polluted than outside.
This indoor pollution is linked to both short-term and long-term health risks. Other studies have found that exposure to high levels of indoor air pollutants, such as volatile organic compounds (VOCs), can lead to headaches, dry throat, eye irritation, and runny noses. More serious effects of VOCs can include asthma attacks, poisoning, and cancer. Exposure to particulate matter can cause respiratory and cardiovascular diseases such as asthma and heart disease. In short, poor indoor air quality has serious health consequences.
In a study led by Harvard University, it was discovered that poor indoor air quality can cost companies up to $15,500 in annual losses per employee. For example, CO2 increases of 400 ppm can lead to a 21% decrease in productivity. Ensuring that indoor air is healthy helps to ensure that employees are healthy and productive. Achieving this directly impacts the bottom line of every business.
To maintain high indoor air quality, we need to monitor it. By using an air quality monitoring system, you will have a clear view of when air quality is above or below a permitted level of pollution. They ensure that pollution management systems are more cost-effective and seamless.
The RESET Air v2.0 Certification Process
RESET Air for Commercial Interiors v2.0 is a performance-based standard that aims to monitor, track, and report air quality for occupied indoor spaces. It's straightforward and designed to fit diverse project types, both new and existing. Projects must meet specific standards for daily Indoor Air Quality (IAQ) performance to attain the RESET certification. They must also fulfill criteria for air quality monitor performance, installation, data reporting, and calibration.
Using a highly accurate, IoT air quality monitor is key to successfully meeting all requirements. The most effective monitoring solutions are specifically designed to meet the RESET Air standards. They help you effectively track, measure, and report on indoor air quality.
The Sensedge is an air quality monitoring solution that helps you make healthier decisions for your indoor environment. Below is a breakdown of the RESET Air v2.0 certification requirements and how the Sensedge will help you meet them.
IAQ targets
Key indoor air quality parameters and set targets for daily IAQ performance must be met as part of the certification requirements. IAQ performance targets measure:
PM2.5
TVOC
CO2
Temperature & humidity
CO (required only in spaces with combustion)
The Sensedge monitors these key parameters with swappable, customizable sensors to help your project meet RESET's performance targets and to fit your project's unique needs.
Data assessment algorithm
Projects must submit data to the RESET Assessment Cloud to attain IAQ performance targets. The algorithm calculates daily averages and compares them against the IAQ performance targets. The daily average results must stay within the acceptable limits range for three consecutive months.
Ongoing data reporting requires protective measures against power outages and Internet disruption. The Sensedge is equipped with a built-in battery and data buffer to allow for both online and offline data collection.
Data provider requirements
Once air quality is measured and data collected, the information then needs to be passed back to RESET for assessment. To ensure continuity, this information must be submitted via a RESET™ Air Accredited Data Provider. The Sensedge allows accredited providers to export real-time data via the RESET Assessment Cloud.
Accredited monitor requirements
RESET requires projects to use either a Grade A or Grade B RESET Accredited Monitor. Ongoing monitoring of air quality data in regularly occupied spaces is required.
Certified air quality monitoring systems, such as the Sensedge, offer a clear pathway to achieving the RESET certification. They offer ongoing and standardized data collection, a requisite for achieving this building standard, along with functions to help adhere to and maintain RESET standards.
Monitor installation requirements
RESET outlines a set of criteria for monitor installation to ensure ongoing and accurate monitoring and communication. The Sensedge's modular design meets the installation criteria and is easy to install on any wall surface.
Speak with a member on our team to request a demo, to begin your assessment, or to learn how the Sensedge can be right for your project.
For more information on the RESET Standard, please download the RESET Standard for Commercial Interiors v2.0.
Your Vehicle to RESET Certification: Meet the Sensedge
The Sensedge is the most advanced indoor air monitor built for the RESET Standard.
Designed together with architects, building developers, and accredited professionals, the Sensedge provides accurate and continuous air quality monitoring that helps you make healthier decisions for your indoor environment.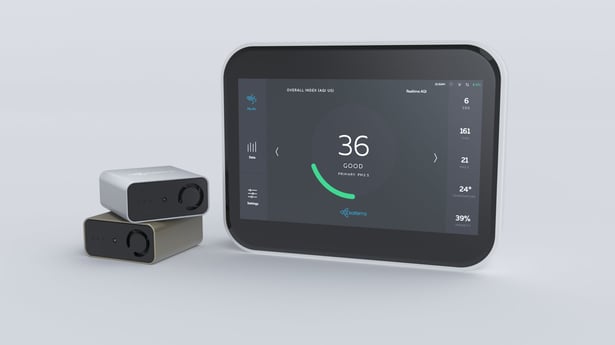 A healthy building prioritizes indoor air health for all occupants. The Sensedge has customizable sensors, provides continuous data reports, and is packed with features such as data buffers designed to ensure your success in attaining the RESET certification.
Learn how indoor air quality monitoring is the right choice for your next project.