Stay in the loop
Air quality insights and best practices delivered to your inbox every month.
Newsletter
Today, building professionals expect healthier indoor spaces and higher air quality. Ensuring good indoor air quality helps promote employee health and productivity, and building certifications like RESET Air are a way to achieve optimal indoor air quality.
What Is RESET Air?
RESET Air is the world's first sensor-based and performance-driven building certification program. Among the most comprehensive and accessible building standards for air quality, RESET Air uniquely focuses on indoor air health for occupants.

In 2018, the RESET Air v2.0 standards officially launched, opening a path for the next generation of architects, building developers, and accredited professionals to revolutionize the built environment. For a standard built around indoor air quality, continuous air quality monitoring is crucial for a RESET certification.
Indoor Air Quality: The Core of the RESET Standard
As its name suggests, RESET Air has specific targets for indoor air quality, and monitors used to receive a certification must also meet certain requirements, which we have broken down below.
Indoor Air Quality Performance Targets
RESET Air's indoor air quality targets must be met as part of the certification requirements. For projects striving for more rigorous indoor air quality goals, RESET also set high-performance targets.
According to RESET Air's targets for acceptable performance, air quality parameters must meet:
PM2.5: less than 35 μg/m³
TVOC: less than 500 μg/m³
CO2: less than 1000 ppm
Temperature & humidity: monitored (no set targets)
CO: less than 9 ppm (required only in spaces with combustion)
For high-performance projects, air quality parameters must meet:
PM2.5: less than 12 μg/m³
TVOC: less than 400 μg/m³
CO2: less than 600 ppm
Temperature & humidity: monitored (no set targets)
CO: less than 9 ppm (required only in spaces with combustion)
Data assessment algorithm & data provider requirements
Projects must submit data to the RESET Assessment Cloud to verify that all indoor air quality performance targets were met; daily average results must stay within the acceptable limits range for three consecutive months.
Projects must use a RESET Air Accredited Data Provider that reports to the RESET Assessment Cloud. Furthermore, air quality data must also be made available to building occupants through visual display screens or digital means, such as a phone app, web app, or QR code redirect.
Accredited monitor requirements
RESET Air requires continuous monitoring of all regularly occupied spaces. Because of the importance of accuracy in estimating IAQ health impacts, and to ensure that all projects have monitors of high quality, reliability, and accuracy, RESET requires projects to use either a Grade A or Grade B RESET Accredited Monitor.
Grade A monitors are calibration-grade monitors primarily used for project commissioning, pollutant source detection, and site audits. Grade B monitors, on the other hand, are commercial-grade monitors that provide high-quality data at scale in buildings, while simultaneously balancing budget, performance, and building automation options.
Monitor installation requirements
RESET outlines a set of criteria for monitor installation to ensure ongoing and accurate monitoring and communication.
Wall-mounted and centrally located within monitored spaces
Mounted within the breathing zone: between 3 to 6 feet (900-1800 mm) from the ground
Located at least 16 feet (5 meters) away from operable windows, as well as air filters and fresh-air diffusers
Hard-wired to a permanent power source (recommended)
Your Vehicle to RESET Certification: Kaiterra Air Quality Monitoring Devices
Kaiterra enterprise products, including the Sensedge and Sensedge Mini were built for the RESET Standard, and each of them is fully compliant with the RESET Standard. Designed together with architects, building developers, and accredited professionals, Kaiterra's commercial air quality devices monitor all of RESET Air's IAQ target parameters, as well as RESET's data, accreditation, and installation requirements.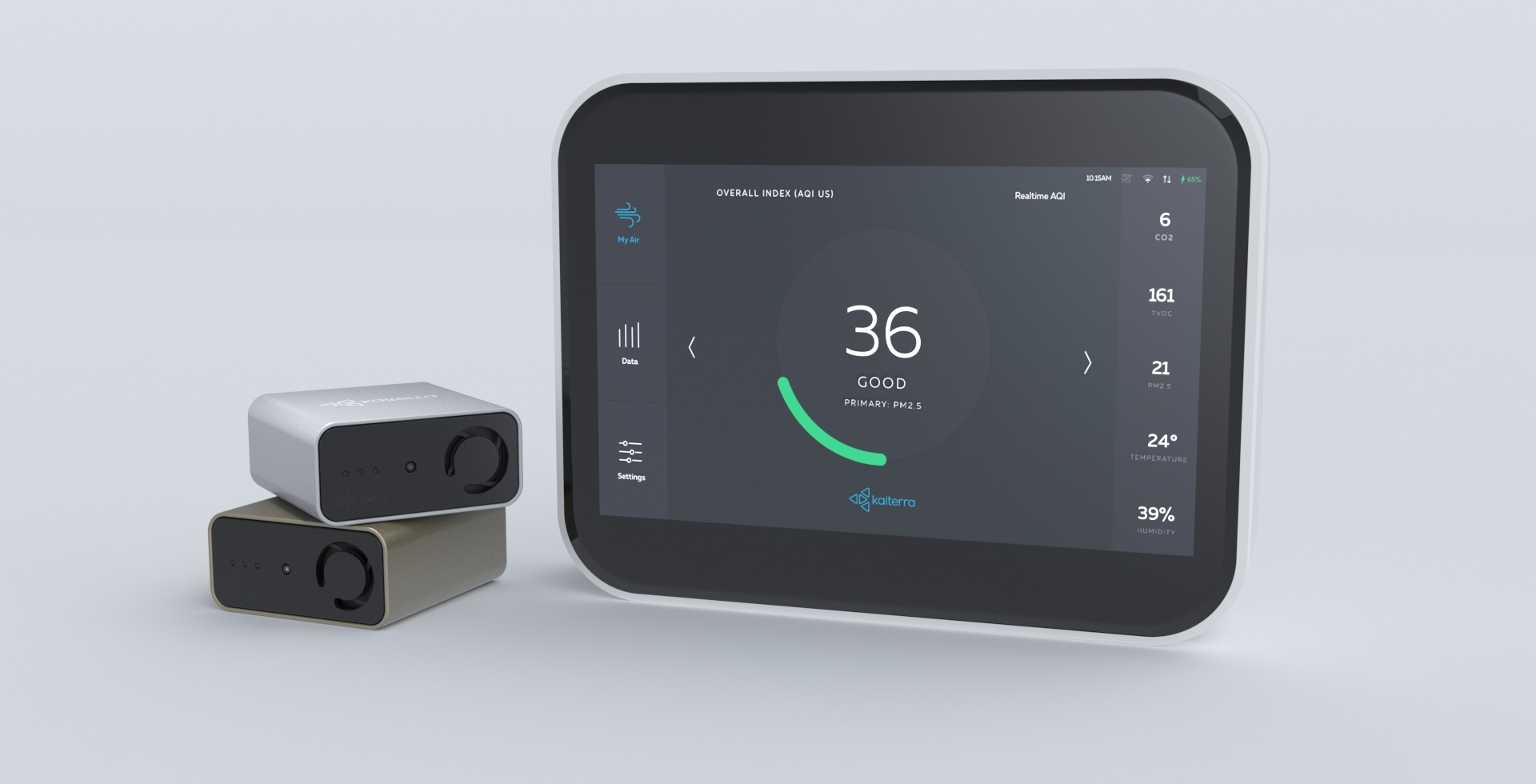 All of Kaiterra's commercial monitors monitor PM2.5, TVOC, CO2, temperature, and humidity, so all of your monitoring needs are taken care of in one system. The Sensedge and Sensedge Mini come equipped with best-in-class sensors, providing you with accurate, reliable readings.
With Kaiterra's signature modular design, you can add customized modules for pollutants like ozone and carbon monoxide. The modules also make the calibration process simple, as older modules can be swapped out for new ones in seconds, saving you both time and cost.
All data reporting requirements are also met by Kaiterra's line of commercial air quality monitors. Each monitor is equipped with a built-in battery and data buffer to allow for both online and offline data collection so your minute-by-minute readings are never interrupted, and accredited providers can export real-time data via the RESET Assessment Cloud.
RESET-Certified Projects Using Kaiterra Monitors
Kaiterra's enterprise monitors have a proven track record of helping projects receive a RESET Air certification. For more information about a selection of these global projects, read the case studies below:
---
Certified air quality monitoring systems from Kaiterra offer a clear pathway to achieving the RESET certification. Speak with a member on our team to request a demo, to begin your assessment, or to learn how Kaiterra is right for your project.