Stay in the loop
Air quality insights and best practices delivered to your inbox every month.
Newsletter
In 2018, pollution levels in South Korea hit record highs and made head waves in the media. Cities in heavily populated areas (such as the Gangnam district) were covered in a thick smog and air pollution became ranked as the number one concern for citizens in a national survey. Everyone agreed that changes needed to happen to tackle the fine dust particles that were making it harder for people to breathe. So, in 2018, finding actionable solutions for air quality in South Korea became a national priority.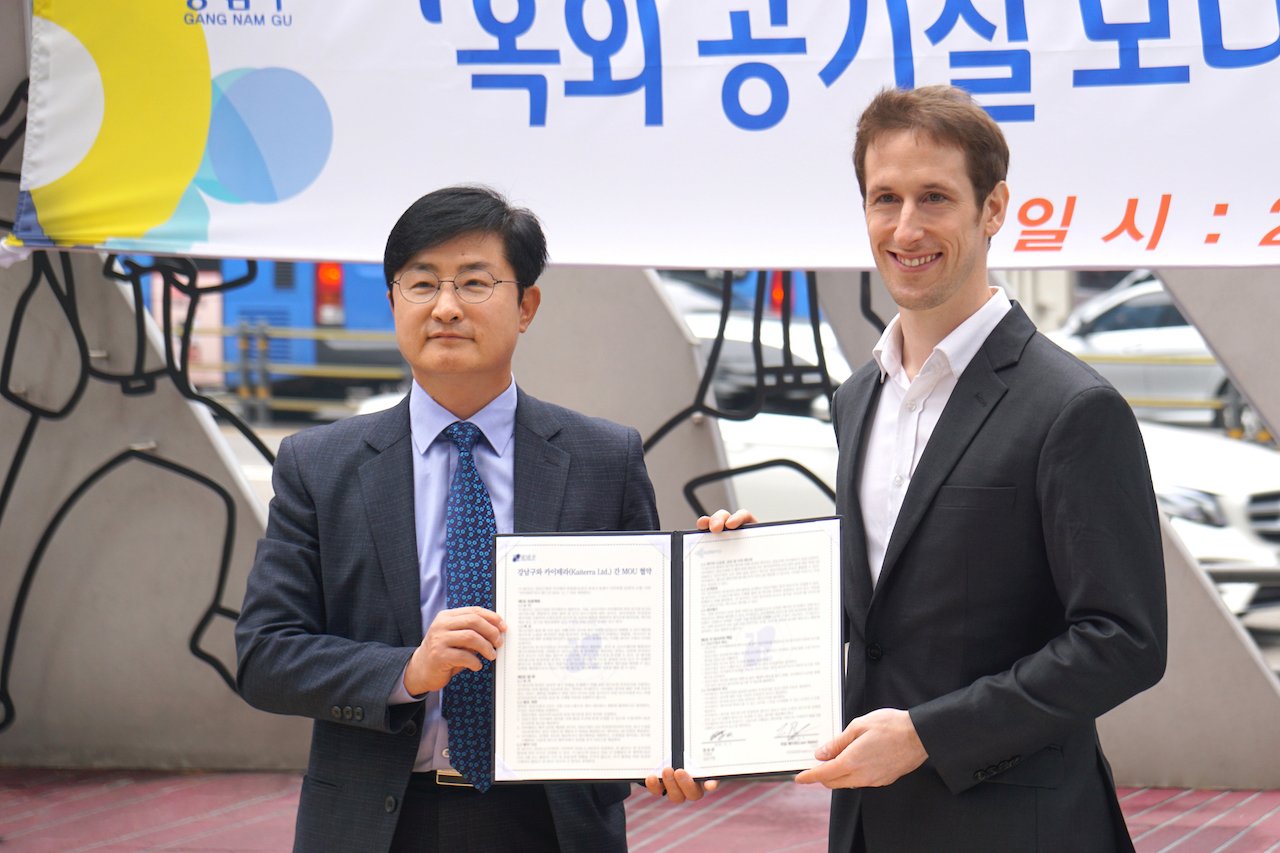 The Government of the Gangnam District in Seoul, South Korea, is ready to take action. And, that's where we come in…
Actively Monitoring & Measuring Air Pollution in Gangnam
Before you can fight air pollution, you have to be able to actively monitor and measure it. To help the local government in Korea's Gangnam district achieve just this, we will be partnering with them in a year-long pilot program. Using 44 outdoor monitors that we've designed for this project, Kaiterra will work alongside local governments to measure air quality in the area. This is the first project of its kind in South Korea and we're beyond excited to help out with this initiative. Some of the questions we're hoping to answer include:
How is air pollution, specifically particulate matter 2.5 (PM2.5), created?
How does air pollution move within this 400 KM2 area?
We are trying to better understand pollution so we can fight it. The main goal is to gain insight into where pollution is coming from. The data captured over the course of the year will help us understand how to effectively design policies that protect people and combat PM2.5 emissions.
Partnering to Fight Against Air Pollution in South Korea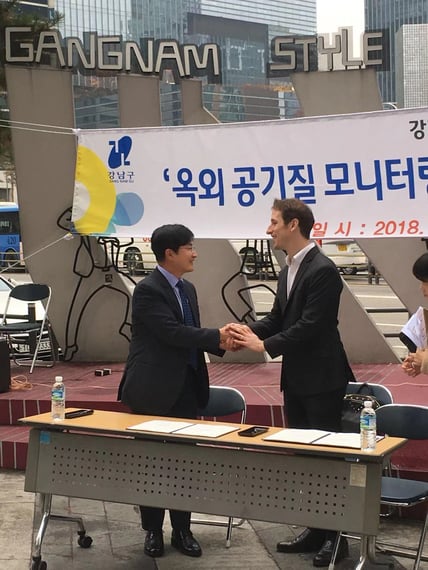 Liam Bates, CEO of Kaiterra (right), with Jung You Seoung, Vice Mayor of Gangnam District (left)
When we were approached with this project, there had never been any other air quality monitoring effort of this magnitude in Korea. Our official partnership to develop a network of outdoor air quality monitors throughout Gangnam will help us understand outdoor air quality on a new level.
People are looking for answers and actionable solutions. This partnership will help us to gain deeper insight into the problem so we can shape effective changes and ease concerns. We aim to support the government in Korea's Gangnam district by arming them with air quality data as well as to inspire local residents to take action.
What Will This Pilot Project Look Like To Gangnam Citizens?
To someone just walking through the streets of Gangnam, outdoor monitors will look like an industrial metal box with an antenna on top. They'll be mounted on street poles where you'd typically see a security camera, roughly 4-5 meters in the air. It's not an obvious device, but the information is invaluable to our cause.
What will be measured?
Very fine pollution particles that impact people's health will be measured. PM2.5, sometimes referred to as smog or fine dust, is so tiny it can enter the bloodstream when inhaled and cause serious health problems. The questions we're setting out to answer with this pilot program are:
Where is Gangnam's PM2.5 coming from?
How is PM2.5 affected by weather?
We want to learn more about how these particles travel and how to forecast pollution. For example, we know that wind can carry these pollution particles very far distances, but we don't know the impact of shifting winds in the Gangnam district. Studying this will help us deepen our overall understanding.
Our Goal for Better Outdoor Air Quality
Air is the one thing in this world that belongs to everyone. We all have a stake in it and a responsibility to care for it as much as possible. At Kaiterra, we are here to put the future of air quality in the hands of the many, not the few. We strive to empower people to take small, measurable steps to improve the quality of our air – by any means possible. Everything we do is pushing us towards this greater goal.
Being able to use data to understand what's happening outside is the first step. It's always been part of our major mission and this is the first national project we're tackling. We're ready to roll up our sleeves to show everyone the work we're doing and how it can directly benefit long-term outdoor air quality.