Stay in the loop
Air quality insights and best practices delivered to your inbox every month.
Newsletter
Since it was first declared in March of 2020, the COVID-19 pandemic has radically changed how we all live and work. But as businesses and workplaces reopen during the ongoing pandemic, how can we ensure that buildings and interiors are as safe as possible? The WELL Health-Safety Rating aims to resolve this question.
What Is the WELL Health-Safety Rating?
The WELL Health-Safety Rating for Facility Operations and Management (WELL HSR) was created by the International WELL Building Institute (IWBI), the organization behind the WELL Building Standard. With years of research and rigorous testing, the recently graduated WELL v2 provides a roadmap for buildings and organizations to design healthier spaces, from improving the quality of air, water, and light to supporting mental health.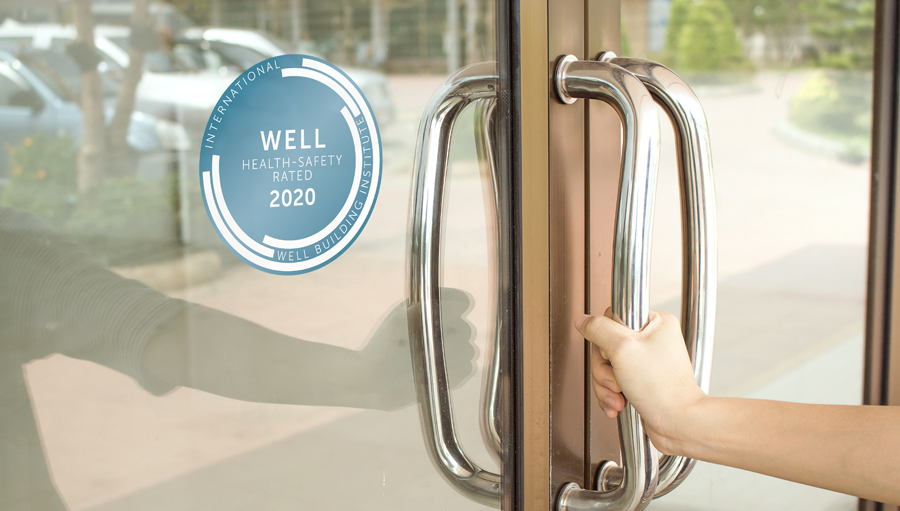 In response to the ongoing COVID-19 pandemic, IWBI launched the WELL Health-Safety Rating, an evidence-based, third-party-verified rating designed for reopening in a post-COVID-19 world. The WELL HSR has already garnered over 29,000 projects across 97 countries, reflecting a worldwide commitment to safely reopening businesses and offices.
The WELL Health-Safety Rating consists of a subset of features from the WELL Building Standard that not only promotes building occupant health, but also specifically reduces the risk of viral transmission. The WELL HSR targets the following six themes:
Cleaning and sanitization procedures
Emergency preparedness programs
Health service resources
Air and water quality management
Stakeholder engagement and communication
Innovation
Each building or space needs to achieve at least 15 features listed under the six themes, and none of the features are required.
Air Quality Management in WELL's Health-Safety Rating
Since those of us at Kaiterra consider ourselves air quality experts, we'd like to outline the features related to air quality management included in the WELL HSR and provide additional information about why these strategies are effective against COVID-19.
SA1: Assess ventilation
The first strategy listed under "Air and Water Quality Management" is SA1, Assess Ventilation. For this strategy, the current running and potential modifications of a project's ventilation system should be assessed. The ventilation of outdoor air should be maximized, with minimal recirculation. For any potential modifications to the ventilation system, the way the modifications would impact energy consumption, thermal comfort controls, and maintenance processes should be determined, as well.
Why is ventilation such a crucial tool during the COVID-19 pandemic? If an infected person enters a building, they could be releasing viral particles and droplets into the air. If air is recirculated within the building, then these particles could spread further through the building. Outdoor air is free of viral particles, so diluting indoor air with fresh air will reduce the concentration of these particles. Additionally, any indoor air pollutants within the building will also be diluted (if outdoor air quality is healthy), and the building's indoor air quality will improve.
SA2: Assess and maintain air treatment systems
SA2, Assess and Maintain Air Treatment Systems, requires projects to inventory air filters and other air treatment devices to ensure proper maintenance. Projects must provide documentation that air filters and UVGI lamps have been replaced according to manufacturer recommendations. Air filters must be of the highest efficiency that the HVAC system supports, and the capacity of the system to support UVGI must also be documented.
Alongside higher ventilation rates, air filtration and ultraviolet germicidal irradiation (UVGI) can help eliminate viral particles as air cycles through the HVAC system. Higher efficiency filters (MERV 13 and above) can remove viral particles and droplets when air passes through the filter, and UVGI (upper-room or in-duct) inactivates viruses, making them unable to infect humans.
SA4: Monitor air and water quality
The last strategy we will discuss is SA4, Monitor Air and Water Quality. With regards to air quality management, this strategy requires that projects monitor the following air quality parameters at least once a year in occupiable spaces:
PM2.5 and/or PM10
TVOC and/or formaldehyde
Ozone
Carbon Monoxide
Exposure to air pollutants like the ones listed above can weaken our health, increasing the risk of contracting respiratory diseases like COVID-19. Monitoring for air pollutants can help locate sources of indoor air pollution and restore the confidence of building occupants in the health and safety of the building.
Your Next Step: Continuous Air Quality Monitoring
COVID-19 is not the only reason to implement continuous air quality monitoring.
Air pollutants like particulate matter and volatile organic compounds have long-established ties to human health and productivity, and with the heightened awareness about occupant health generated by the pandemic, ensuring that buildings have good air quality is of paramount importance. Not to mention, if you want to go one step further and earn a WELL v2 certification, continuous air quality monitoring will help you complete the requirements for several WELL features.
---
For more information about how Kaiterra's Sensedge and Sensedge Mini helps you secure a WELL v2 certification, check out our dedicated article below: