Stay in the loop
Air quality insights and best practices delivered to your inbox every month.
Newsletter
Because of the popularity of the WELL certification program, we've naturally received inquiries about how the Sensedge can be used as an air quality monitor for WELL.
The Sensedge is fully compliant with the WELL certification program. To illustrate, we've provided a side-by-side comparison of WELL's air quality monitoring requirements and the Sensedge's continuous monitoring capabilities below:
WELL
Requirements
Sensedge
Compare
A01 Part 1; A01 Part 5; A05 Part 1;
A07 Part 2; A08* Part 1
PM2.5 accuracy
± 5 µg/m3
+ 20 %
at 1-100 µg/m3
± 10% (<30 μg/m³: ± 3 μg/m³) between 0 and 1000 μg/m³

A01 Part 2; A01 Part 5; A08* Part 1
TVOC accuracy
± 20 µg/m3
+ 15%
at 1-500 µg/m3
± 15% between 0 and 9999 ppb
A03 Part 1; A06 Part 1; A08* Part 1
CO₂ accuracy
± 50 ppm + 5 % at
500-2000 ppm
± 3% ± 50 ppm between 400 and 2000 ppm
A08
Sensor calibration
Monitors are recalibrated or replaced annually
No calibration needed - simply replace the modules
A08
Measurement intervals
Measurements are taken at intervals of no longer than 10 minutes for PM and CO2 and no longer than one hour for other pollutants
One minute
A08
Environmental measures display
Real-time display of air pollutants
7'' Full Color Touchscreen Display
---
Kaiterra's Sensedge monitors three air pollutants at once (PM, CO₂, and TVOC), and it also measures temperature and humidity so you can maximize the comfort of your project. The Sensedge can also be equipped with additional sensing parameters for continuous monitoring of ozone, nitrogen dioxide, carbon monoxide, and more.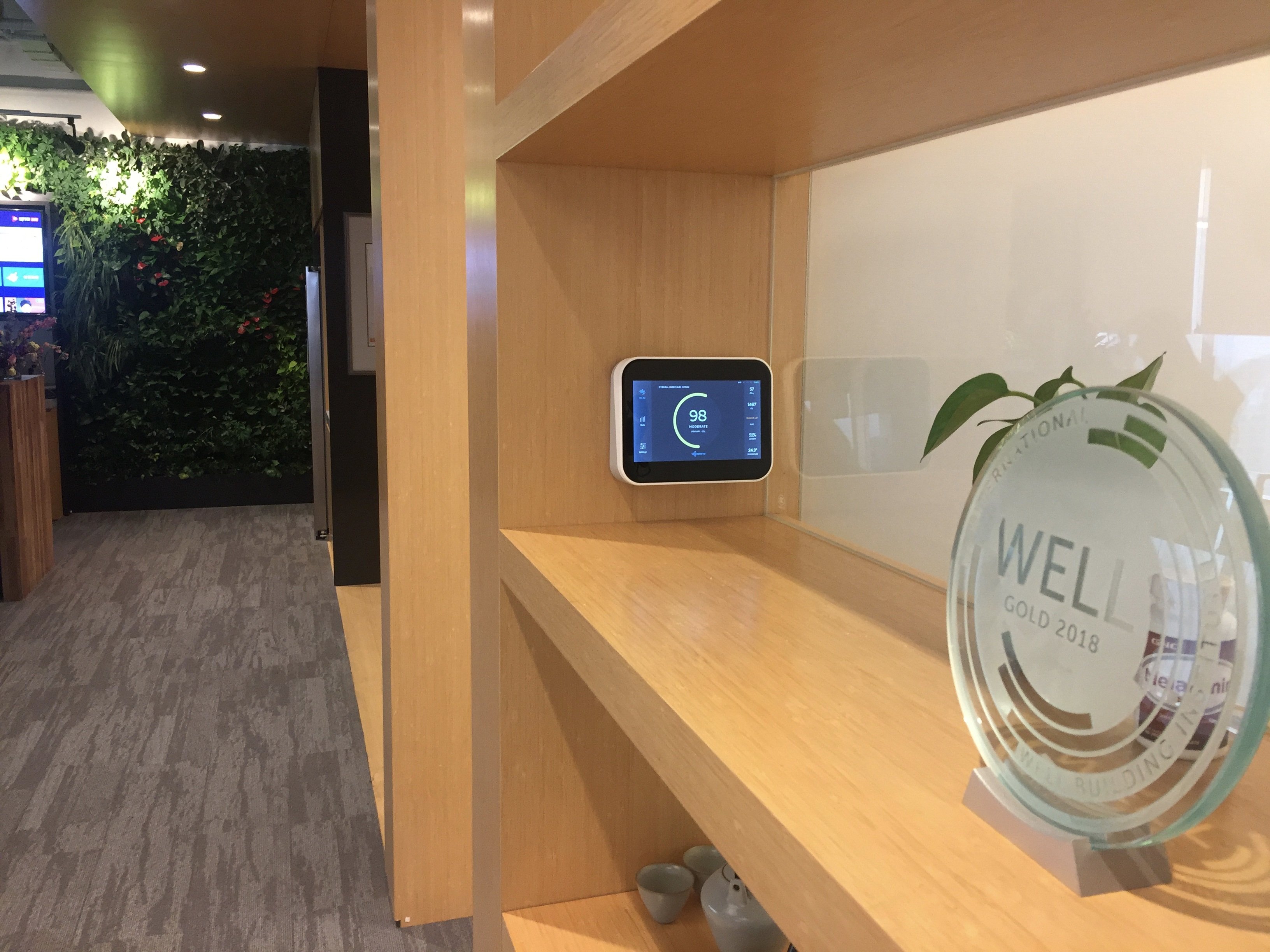 Because of its modular design, the Sensedge itself does not need to be calibrated. Rather, you only need to remove the sensors and replace them with new ones. The previously weeks-long process of calibration only takes seconds with the Sensedge, and the Sensedge can readily be used as an air quality monitor for a WELL certification.
To learn more about how the Sensedge can help you earn a WELL certification, reach out to our team below!