Stay in the loop
Air quality insights and best practices delivered to your inbox every month.
Newsletter
Discover the key air quality parameters to boost your Fitwel scorecard, and how Kaiterra's IAQ monitoring solutions can help
The growing recognition and awareness of the influence the built environment has on our bodies has given rise to certifications like WELL. Receiving certifications, however, can be a lengthy and costly process. Fitwel was created to be an accessible, flexible path to certification for an array of projects. With 97% of its users reporting ease of use, Fitwel offers a streamlined alternative to the WELL Standard.
What Is Fitwel?
Fitwel is a building standard and certification program designed for ease of use and flexibility. Over 1100 projects around the world have applied for Fitwel certification, and the certification process typically takes fewer than 12 weeks.
Unlike WELL, Fitwel doesn't have any prerequisites or required strategies, with points awarded for implementing each of the 55 strategies proven to enhance buildings. These strategies cover various aspects of the built environment, including location, access, outdoor spaces, the indoor environment, shared spaces, and water supply.
Learn more about Fitwel and other healthy building standards: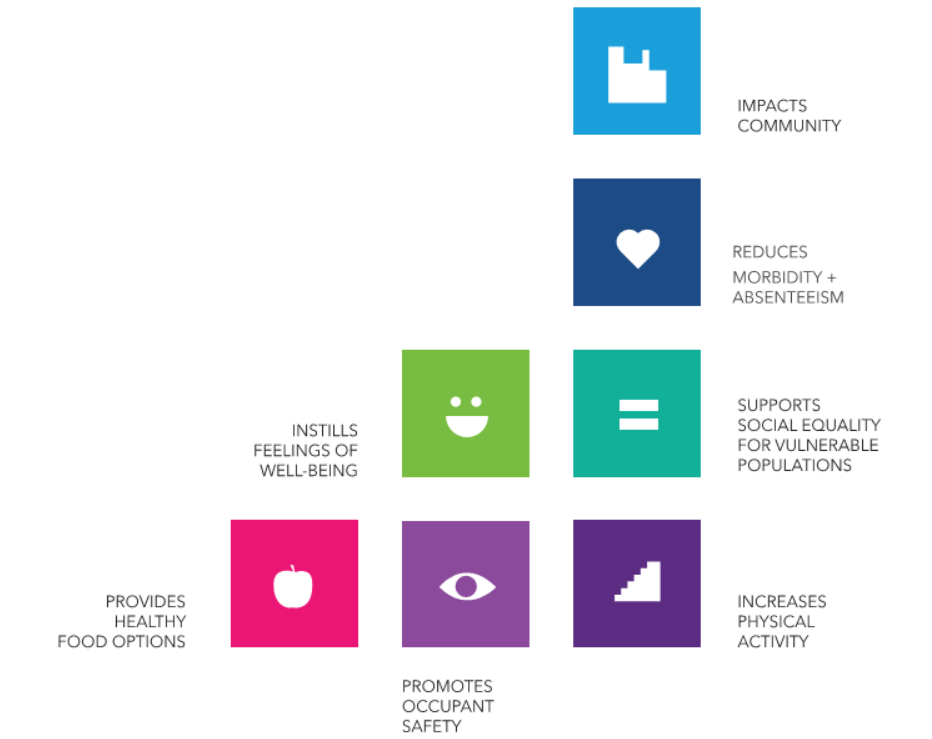 Fitwel's seven Health Impact Categories; image via https://www.fitwel.org/
Achieving Fitwel Through IAQ Strategies
For Fitwel v2.1, all project types, except for Commercial Sites, can earn points towards certification by monitoring and improving indoor air quality. Listed under "Indoor Environments" on each project types' respective scorecard, these strategies include creating an indoor air quality policy (6.3), testing or monitoring air quality (6.4), and reporting air quality test results to the building's regular occupants (6.5).
You can download the scorecards for free from the Fitwel website (requires registration). Here's what you need to look out for when it comes to air quality:
6.3 Indoor air quality (IAQ) policy
Worth between 2.52 and 2.88 points, implementing an indoor air quality policy in line with Fitwel can not only help you identify areas where air quality can be improved, but also set a benchmark for future air quality comparisons.
To meet the requirements for this strategy, your indoor air quality policy must apply to all spaces, including future construction and renovations, and be included in all relevant leases or tenant manuals. Furthermore, your IAQ policy must be at least as rigorous as Fitwel's IAQ policy.
6.4 Indoor air quality testing
Using 6.3 as a springboard, Fitwel also includes regular IAQ testing under the category of "Indoor Environments" worth between 1.44 and 1.96 points. Testing and monitoring indoor air quality can help you set indoor air quality benchmarks, establish areas to improve, and track the effectiveness of your IAQ plan from 6.3.
What is required to receive credit for 6.4? First, air testing must be completed after any construction or major renovations. Second, air testing or continuous monitoring must take place in all regularly occupied spaces after occupancy. Third, air testing or monitoring results must meet five of the following:
PM2.5: less than 25 μg/m³
TVOC: less than 500 μg/m³
CO2: less than 1100 ppm or 700 over ambient
CO: less than 9 ppm
Formaldehyde: less than 27 ppb
Relative humidity: between 30-60%
Alternatively, receiving a RESET Air certification, earning credit for LEED v4 ID+C: Indoor Air Quality Assessment, or meeting UL 2891 requirements will satisfy 6.4.
6.5 IAQ testing results
As an additional step from 6.4, Fitwel also encourages air quality testing or monitoring readings to be made available to regular occupants, contributing between 1.44 - 1.96 to your scorecard. The aim of 6.5 is to increase IAQ transparency, promote environmental awareness, and stimulate positive air quality improvements.
To earn credit for 6.5, data from air quality tests or continuous monitoring must be made available to regular occupants through a digital platform, tenant manual, or annual communication material.
How Kaiterra Enterprise Products Help You Earn Points for Fitwel
All three of the above IAQ strategies offered by Fitwel can be bolstered by continuous air quality monitoring from Kaiterra.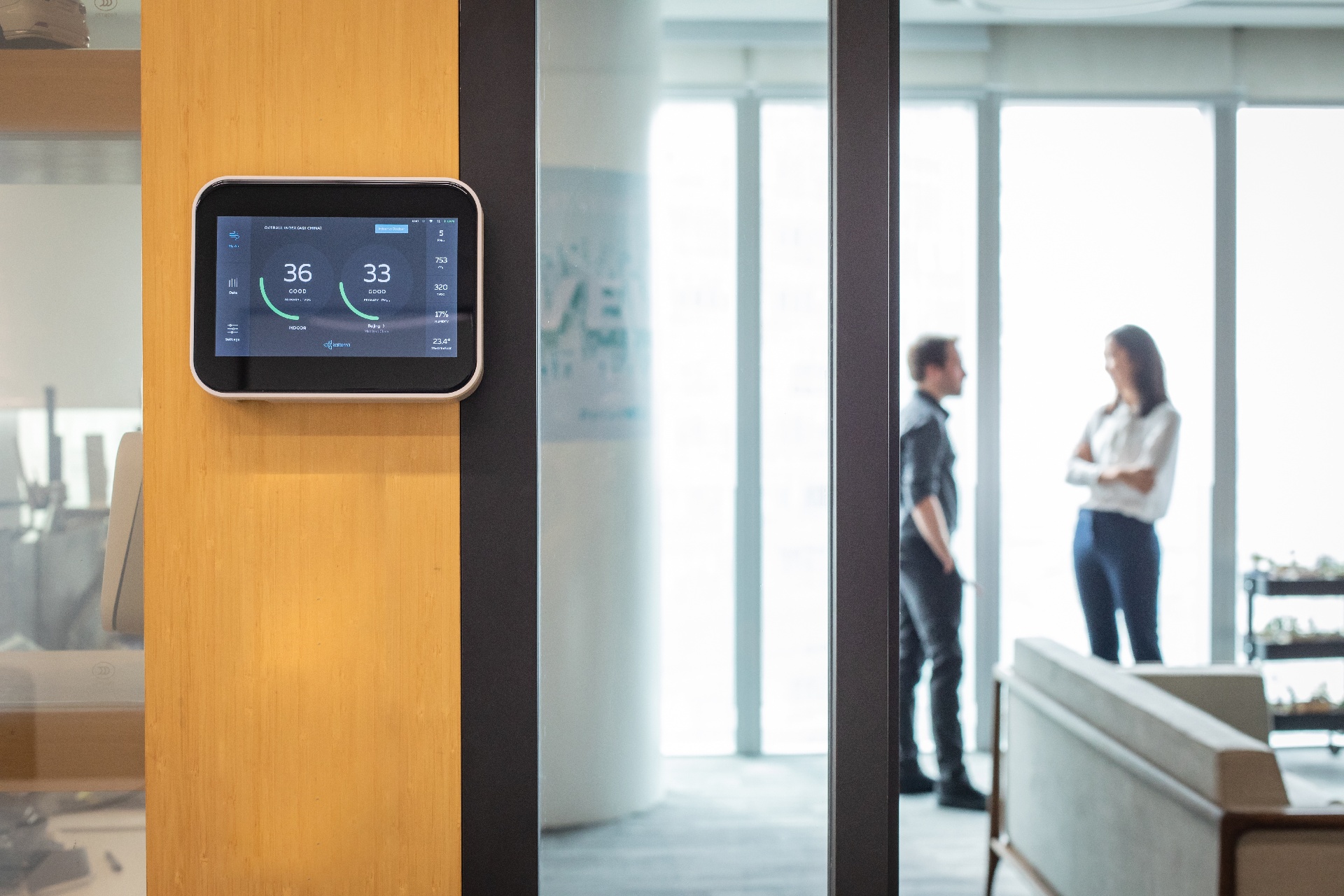 Kaiterra's commercial air quality monitors, including the Sensedge and Sensedge Mini, are all equipped with PM2.5, TVOC, CO2, temperature, and relative humidity sensors, with the option of adding customized parameters like carbon monoxide, ozone, or formaldehyde. Monitoring these air quality parameters can go a long way toward receiving credit for 6.4.
The Sensedge and Sensedge Mini are both RESET-Accredited Grade B commercial air quality monitors, so you can complete the alternative path for 6.4 by also receiving a RESET Air certification with Kaiterra's enterprise products.
Kaiterra's continuous air quality monitoring options can also be a time- and cost-saving advantage, as there is no need for expensive air quality retesting or calibration. Instead of the traditional calibration process, which can expend crucial resources needlessly, Kaiterra's signature modular design enables you to simply swap out old modules for precalibrated, new sensor modules, ensuring long-term accuracy and reliability without commensurate cost.
Beyond air quality monitoring, Kaiterra monitors also come with the Kaiterra dashboard, a powerful tool accessible through web, mobile device, or API key. With this innovative platform, you can view, analyze, and compare real-time air quality values, as well as meet the air quality awareness requirements for 6.5. Likewise, the air quality data from the dashboard can be used to identify areas for air quality improvements, which can make your IAQ plan for 6.3 more tailored and trackable.
Update: The Fitwel Viral Response Module and Enhanced Indoor Air Quality Testing Policy
The COVID-19 pandemic has increased demand from both tenants and building managers for a more comprehensive solution to clean office air. In response, FItwel released its Viral Response Module (VRM), which details a set of policies to implement to mitigate viral transmission in buildings and safeguard employee health.
The Fitwel Enhanced Indoor Air Quality Testing Policy (downloadable here as PDF) details the indoor air quality requirements for attaining the VRM.
Under Required Testing Metrics, it's stated that buildings need to test for PM2.5 levels, which must be less than 12 μg/m3; as well as CO2, which must be less than 1000 ppm - setting a more stringent standard on both than the Fitwel 2.1 standard. Additionally, at least three of the following metrics need to be tested for:
TVOC: less than 500 μg/m3 or 132.73 ppb
Relative Humidity: between 30-60%
Ozone: less than 0.07 ppm
CO: less than 9 ppm
Formaldehyde: less than 27 ppb
How Kaiterra Can Help
With the Sensedge Mini now supporting ozone monitoring, you can use Kaiterra's IAQ monitors to test for all the metrics you need in order to attain VRM certification from Fitwel. For example, you could use the Sensedge Mini to measure the required PM2.5 and CO2 levels, and also test for TVOC, relative humidity, and ozone - thus satisfying the demand to measure for three of the following additional required metrics
---
Overall, continuous air quality monitoring with Kaiterra devices provides numerous benefits when going for a Fitwel certification. For more information on how Kaiterra's monitors, including the Sensedge and Sensedge Mini, cancan help you achieve Fitwel certification, download the info pack below: